Top 10 Challenges faced by IT Project Managers
---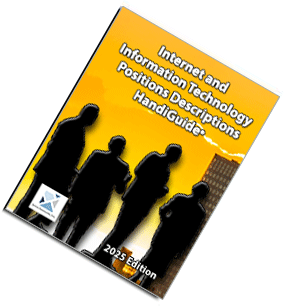 Project Managers are challenged to deliver results on time and within budget even when they do not have sufficient resources to accomplish that
Top 10 Challenges faced by IT Project Managers - Project Managers are keys to the successful development, implementation, and operation of technology initiatives. Their roles and responsibilities need to be clearly defined and understood not only by them but also by those that they interact interact with. With out them there can be no success.
Project Manager Applications Position Purpose
The Project Manager Applications is responsible for overseeing the applications group within the technical support.  This group is responsible for the enterprise database systems and transaction processing systems that form the basis of the enterprise's application platform and computer systems.  This responsibility includes transaction processing security, resource monitoring and reporting, and the development of specialized programs.  The Project Manager Applications coordinates transaction processing software issues with other IT organizations including applications and operations.
Survey of IT Project Managers
Janco Associates conduct a survey of IT Project Managers in large and mid-sized corporations. 178 Project Managers participated in the study. All of the managers had been operating in that role for over one year and several had been project managers for well over five years. They all had at least 5 project team members and the largest project had over 60 IT professionals on it.
Read on Project Manager... Order Project Manager Job Description Sample Job Description
The project managers were able to select multiple answers as well as write in their own challenge. Interestingly almost two thirds (63%) said they spent too much time doing things other than tasks associated with the success of the projects. They attributed that to administrative overhead and organizational bureaucracy.
The top 10 challenges they face are:
Bureaucracy - admin overhead - 63%
Over worked - 53%
Under staffed - 51%
Changes in specifications - 47%
Changes coming too fast - 42%
Scalability of applications - 41%
Deadlines not agreed on - 39%
Staff skills gaps - 34%
Technology out of date - 22%
Staff turnover - 10%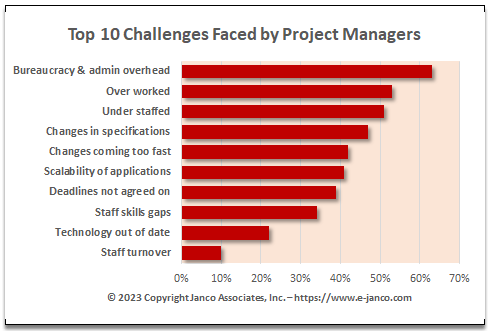 Read on Project Manager... Order Project Manager Job Description Sample Job Description