IT Jobs Drive Phoenix Benefit from Industry Recovery
58,300 IT jobs have been added in the last 12 months
IT Jobs Drive Phoenix Benefit from Industry Recovery - The number of IT jobs Phoenix has to offer should benefit from a positive trend in the industry.
Hiring Trends January 2011 to July 2011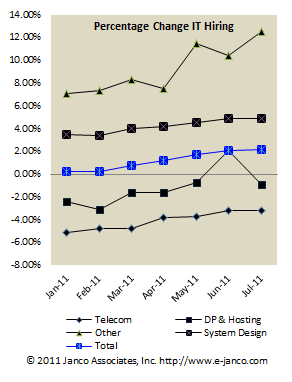 The 2011 IT Salary Survey from Janco Associates, Inc. found that many IT companies are recovering nicely from the economic downturn. Many companies have been able to increase salaries and bring on more employees over the last year.
This positive trend should help the number of IT jobs Phoenix (Click here) has to grow and make a full recovery from the economic recession. The local area is home to many prominent tech companies that could be looking to hire.
The survey found that:
Average pay for all IT employees increased by .35 percent to $77,873 per year.
Pay for all IT employees in mid-size companies grew by .43 percent to $74,253.
Pay for CIOs has increased by 1.73 percent to $184,681 in large companies and by .49 percent to $163,106 in mid-size companies.
Salaries in mid-sized enterprises have grown the most, increasing by 1.44 percent to $61,924 per year.
Managers and executives are not benefiting from salary increases.
IT companies are making fewer layoffs and looking to bring many outsourced operations back in house.
Companies are hiring more part-time and contract workers to complete critical projects. IT employees are receiving fewer benefits and paying more of the cost.
More employers are offering flexible working schedules.
Order Salary Survey Download Sample Provide Data