Telecom Sector Loses Jobs
Although U.S. employers added 200,000 jobs last month, the improvement in the job market wasn't reflected in the telecommunications sector.
Telecom Sector Loses Jobs - The telecom industry lost 4,100 jobs in December, Janco Associates reported, citing the U.S. Labor Department's Bureau of Labor Statistics. The telecom industry greatly contributed to a net loss of 300 IT jobs last month, according to Janco Associates. Other areas in IT saw job gains such as other information services (1,300 jobs), data processing and hosting (2,000 jobs) and computer system design and related services (500 jobs).
"Companies are continuing to watch expenses and IT seems to be a function that continues to be the focus of these efforts in many organizations," Janco CEO M.V. Janulaitis said in a statement. "IT is often viewed as a cost center putting head counts and capital budgets under constant scrutiny. IT jobs are typically not being cut, rather openings are left unfilled. "
The overall job market, however, is improving given that the month of December reflected a net gain of more than 100,000 jobs for the sixth consecutive month, according to The New York Times. The unemployment rate dropped in December to 8.5 percent, which The Associated Press reported is the lowest rate since February 2009.
Historic IT Job Market Size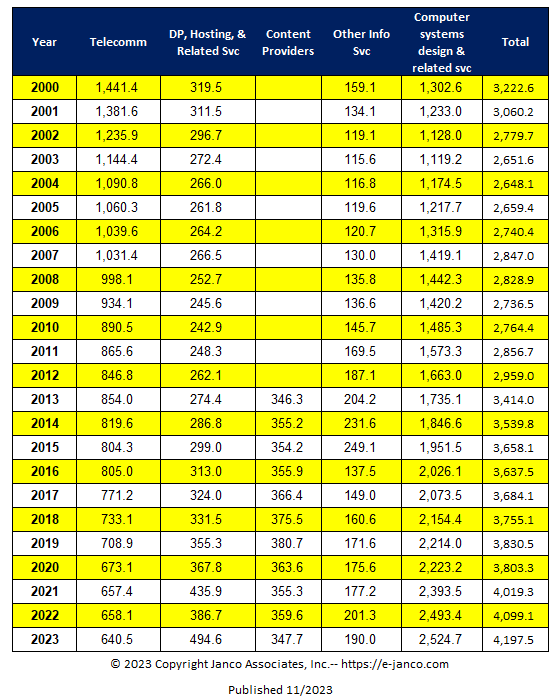 Data complied by Janco Associates with data as of November 2023
IT Job Market Employment Trends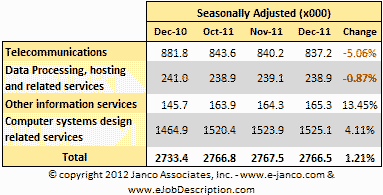 Versions of the Salary Survey


Order Salary Survey Download Sample Provide Data