IT Job Market Shows Signs of Stagnation
Janco finds that hiring trends are down for IT Professionals -- few executive and senior level positions are being filled
IT Job Market Showing Signs of Stagnation. The IT job market appears to be stalling out, according to the latest figures from Janco Associates, a management consulting firm that specializes in management information systems.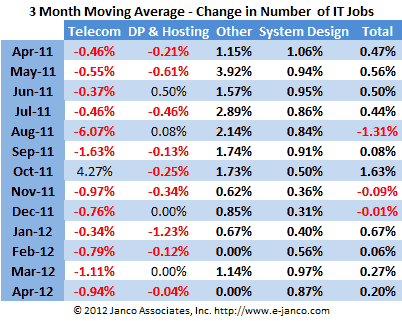 Order Salary Survey Download Sample Provide Data
According to Janco, not only were job gains tepid in April 2012, a significant number of out-of-work professionals are giving up on getting hired altogether. And the picture doesn't seem to be improving. The vast majority of CIOs have no immediate hiring plans, especially when it comes to mid- to senior-level managers and executives. "We found that most have some short-term needs that are of a 'temporary' nature," says Victor Janulaitis, CEO of Janco. "CIOs are continuing to keep the overall full-time headcounts level and do not see any increase in permanent staffing within the next several months. A few CIOs in selected areas like the San Francisco Bay area and Boston are bullish. However, for the most part, CIOs continues to remain cautious. "
Only 6,000 IT Jobs added in the US in April
63% of those out of work are seeking new jobs - lowest rate since 1980
22% of CIOs are looking to hire lower-level  IT staffers within the next 30 days
22.5% of CIOs expect to hire contractors or consultants over the next 30 days
4% of CIOs are planning to hire high-level IT executives in the next 30 days
6.9% of CIOs say they'll hire senior management in IT over the next 30 days
11% of CIOs expect to hire middle managers in IT over the next 30 days
Computer system design and related services accounted for 11,400 jobs in April
Telecommunications shred 3,900 positions in April