IT job market growth slows to 4,200 jobs in December versus 8,700 in November according to BLS data

IT hiring is driven by the overall economy and signs of near term prospects for improvement are few. National participation remains at to 63.6% - 615,000 more people are looking for jobs in December 2012 than December 2011.
Park City - UT  -- IT job market growth slows to 4,200 jobs in December versus 8,700 in November according to BLS data . For the year 2012 there was a gain of 62,500 IT jobs. The CEO of Janco Associates, Victor Janulaitis said, "The slowing of growth in the IT job market is a cause for concern. If a robust recovery does not occur, as some predict, it will not be a good time to be looking for a new job. Granted there were 21,800 IT jobs added in the last three month, however that number of new jobs is not enough to ease our concerns. "
The CEO added, "According to BLS data, the overall unemployment rate rose to 7.8% from the originally report 7.7% in November (BLS revised November to 7.8%). The total number of individuals (civilian non-institutional) looking for a job in December 2011 was 6,135,000 versus 6,750,000 in December 2012 - an increase of 615,000. Not a good omen for the economy in general and with the recent re-instatement of the payroll taxes a definite worry. "
Order Salary Survey Download Sample Provide Data
Janco continues to be concerned that the data shows the labor market participation rate is at a record low level and recovery may not be around the corner. The macro trend for labor participation since 2008 is down by 1.4% which translates to approximately 3.8 million people who are excluded from the labor force calculation. The CEO of Janco Associates said, "The year to year comparison of workforce participation shows how deep a hole we are in. Until those percentages turn around the recovery will be weak at best, IT demand will be dampened, and overall IT employment opportunities will remain at very low levels. "
Historic IT Job Market Size - Over 4.19 Million Employed as IT Pros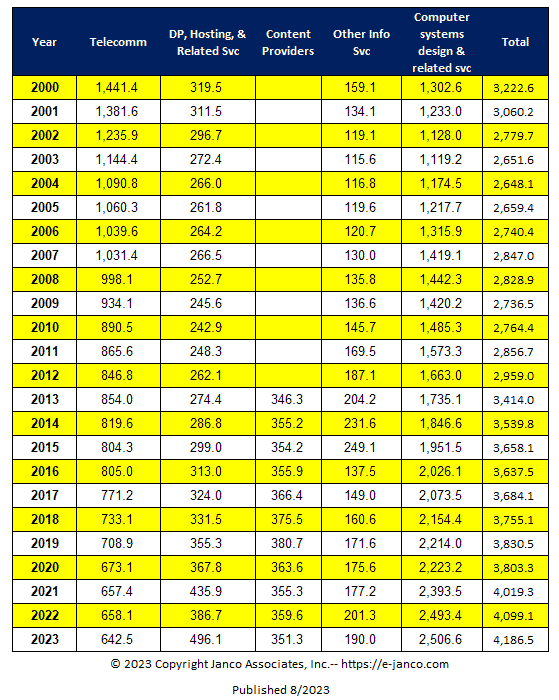 This is not the original data that was published.
It has been updated with data complied by Janco Associates with data as of September 2023.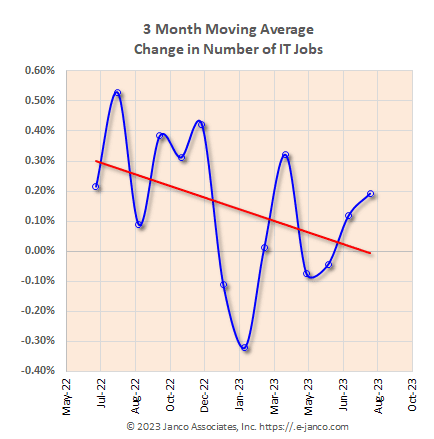 A robust hiring trend for IT Professionals - the recovery is slowing however, there are a number of jobs unfilled by IT Pros. The primary culprit is the lack of qualified individuals to fill the open positions. In our opinion, the IT Job Market is currently at no growth!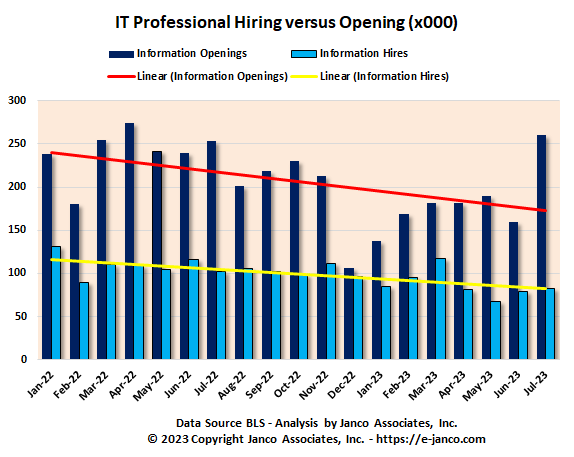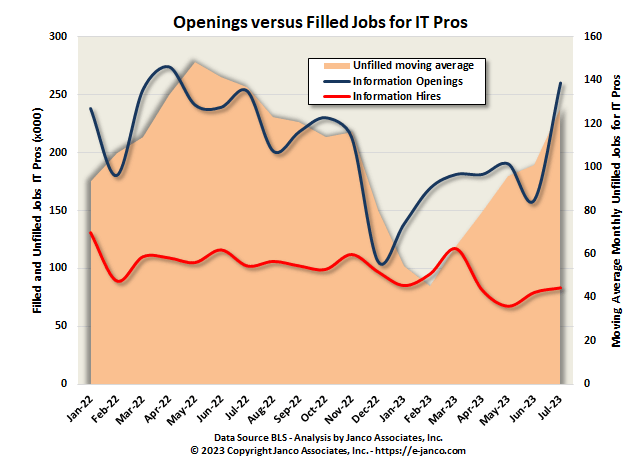 Based on BLS data analyzed by Janco in the first 3 quarters of 2022 an average of 200K IT jobs remained unfilled due to a lack of qualified individuals. In 2023 the number of unfilled jobs has fallen to around 100K.
The number of unfilled jobs trend line is down as the economy softens and CIOs and CFOs look to control costs and eliminate requisitions for positions that cannot be filled. There was a major pullback of the number of excess jobs for IT Pros occurred in December - layoffs have impact on number of unfilled jobs available for IT Professionals.
Order Salary Survey Download Sample Provide Data
97 CIOs have grown more pessimistic and have started to look more closely at adding more staff
In a continuing survey of CIOs, Janco has found many CIOs are cautious but feel that overall hiring could improve in 2013. The CEO of Janco said, "In telephone interviews in late December of 97 US based CIOs we found that many are looking to a more unsettled future with the looming tax increases, unsure economic future, and unstable world political situation. CIOs are keeping their current overall FTE (full time equivalent) headcounts level to slightly down and are looking to eliminate consultants and contractors along with any marginal activities their own staffs are working on. " He added, "A few CIOs in selected areas like SF Bay Area and Boston are continue to be bullish. " Further he said, "Few CIO's are looking to hire within the next 3 months. These CIOs are looking for particular sets of skills to meet the demands of mobile computing and towards implementation processes which will support users to use their own personal devices - BYOD (Bring Your Own Device) - to minimize capital expenditures and improve ROI. "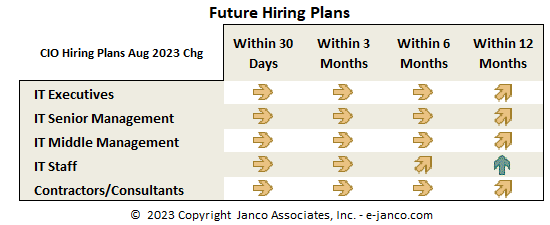 Updated with the latest forecast - Read on...
Impact of recovery on the IT Job Market
Healthcare and Financial Services Job Market
The health care job market continues to be a bright spot on the overall US labor market and is one area where IT Pros can go with the flow and find job opportunities. The implementation of Electronic Patient Records is one of the driving forces in the increased opportunities in this area. The chart below depicts the total labor market in this sector.