IT and Computer Science Job Market Expands
Enterprises are looking to hire, especially in cloud and mobile computing, according to IT consulting firm Janco Associates
Beth Bacheldor
IT and Computer Science Job Market Expands - Unemployment is holding steady, but the latest jobs report from the U.S. Bureau of Labor Statistics held good news. Employers added 321,000 jobs in November and it was the 10th consecutive month of net job gains above 200,000, the Labor Department said. The uptick was clearly evident for IT professional and computer science related jobs, according to Janco Associates Inc.
The international management consulting firm, which focuses on information technology, said 12,700 jobs were added in November for IT and computer science professionals, compared with only 9,500 in October. For 2014, there have been about 105,000 jobs added in the IT and computer science sector compared with last year when only 68,500 jobs were added through November, Janco Associates reported.
"In our professional opinion, the recovery is well under way for IT pros," Janco Associates CEO M.V. Janulaitis said in a prepared statement. "Hiring is across the board, as many CIOs have been given the green light to start hiring. "
Janco Associates has been talking with a number CIOs in the last several weeks, and based on interviews with nearly 100, "we find that hiring is on a definite upswing and there is a real shortage of IT pros with experience in cloud-based applications and mobile computing. In addition, as we are capturing data for our next IT salary survey which is to be published in January, we are finding that there is an upward pressure on compensation for the first time since 2002. "
Long Term IT Job Market Growth Positive But Slowing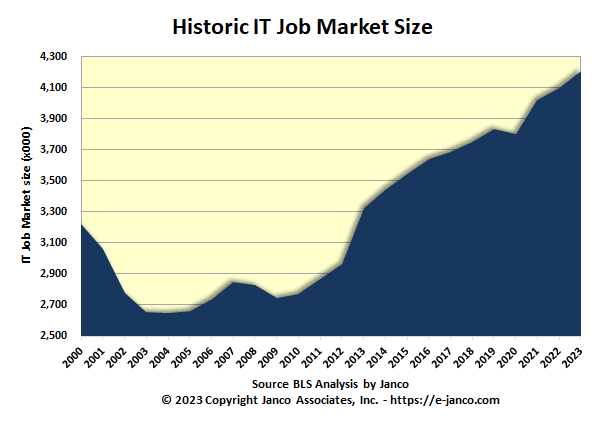 Data as of September 2023