Safety Program Template with updates for IoT released
Janco releases version 3.2 of its Safety Program with specific updates that focus on IoT (Internet of Things)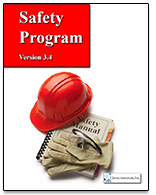 Park City - UT - Safety Program Template with updates for IoT released - With the rapid expansion of IoT devices and the implications that makes on safety of employees and 3rd parties, Janco Associates, Inc. has updated it Safety Program Template (https://e-janco.com/safetyprogram.htm ) to take IoT into consideration.The CEO of Janco Associates, Mr. Victor Janulaitis said, "As companies begin to implement IoT they are expanding the universe of individuals they need to consider in their Safety Program" The CIO also said, "IoT devices report status at a point in time and people will react to that data. If it is inaccurate and the individual does something that could impact their safety the company may be at risk. " He added, "Janco's Safety Program along with the action steps that need to occur when deploying IoT is the right tool to assist in that process. "
Order Safety Program Download Selected Pages
The Safety Program is a proven product with over 1,500 domestic and international using organizations.
When combined with Janco's Disaster Recovery and Security Templates the breath of the offering is a must have for every enterprise. The Safety program is available now for between $299 to $459 depending on the options selected including electronic forms and annual update service. There is an option to save over 20% when the Safety Program is acquired with the Disaster Recovery / Business Continuity (https://e-janco.com/drp.htm) and the Security Manual Template (https://e-janco.com/security.htm) at $999.
All of Janco's products are delivered electronically via its proprietary distribution system.
Janco is an international consulting firm that follows issues that concerns CIOs and CFOs and publishes a series of IT and business infrastructure HandiGuides® and Templates including a Disaster Recovery/Business Continuity Template, Security Template and IT Salary Survey.