Janco Releases 100 Infrastructure Electronic Forms
Electronic forms improve productivity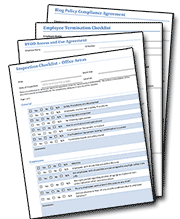 Park City, UT - Janco Releases 100 Infrastructure Electronic Forms. Janco Associates has as its primary focus the improvement of productivity and information accuracy and quality. To that end, Janco has just released its 100 Infrastructure Electronic Forms. Victor Janulaitis the CEO of Janco Associates, Inc. said, "Enterprises around the world are moving away from paper forms to electronic ones. CIOs who are on the top of their games, have already started this progression. It will only be a short time until electronic forms will become a standard best practice."

The CEO said, "Janco's forms are geared to improving productivity with electronic completion and storage in the cloud. Over 1,000 companies in 120 plus countries have selected Janco's CIO IT infrastructure Policy Bundle with electronic forms." He added, "Our electronic forms cover all areas of a modern enterprise's infrastructure including Information Technology, Internet, Social Networking, Disaster Recovery/Business Continuity, IT Service Management, Records Management, Records Retention, Safety and Threat/Risk Assessment."

The CEO added, "The best feature of Janco's electronic forms is that they comply with US state and federal mandates, EU requirements, and ISO standards. Janco has followed "world class best practices" in the creation and implementation of these forms."

The Infrastructure Electronic Forms are delivered electronically and they come as an easily modifiable MS WORD and PDF documents. They include everything needed to implement a seamless electronic document management system which works on Smartphones, tablets, and desktops. The forms can be acquired with Janco's CIO IT Infrastructure Policy bundle or a as a standalone item. Janco also offers a subscription update service for 12 or 24 months.

Read On Order ERP Job Descriptions Get Sample Job Description
Janco is an international consulting firm that follows issues that concern CIOs and CFOs. The firm publishes a series of IT and business Infrastructure HandiGuides® and Templates including IT Infrastructure Policies and Procedures, Disaster Recovery/Business Continuity Template, Security Template, IT Job Descriptions, and its semi-annual IT Salary Survey.