IT Job Market growth slow in March - could it be the weather asks Janco Associates
BLS collected its data during some extreme weather conditions in the Mid-West and East Coast in March
Park City, UT - (e-janco.com) IT Job Market growth slow in March - could it be the weather asks Janco Associates. Janco has just reviewed the March data from the BLS on the total labor picture for the US.  Janco continues to forecast that IT Job Market growth in 2017 will exceed the growth of 2016. The CEO of Janco, Mr. M. V. Janulaitis said, "In conversation with over 60 CIOs, we found they are still optimistic and looking forward to hiring more IT staff in the next 12 months."

In the last three (3) month the IT Job market grown by 21,500. This chart is not the originally published one, rather it is updated with the current data based on the analysis by Janco Associates, Inc. For the latest IT Employment Data click here.
---
The CEO added, "Even though growth of the IT Job Market slowed according to the latest BLS data, Janco continues to believe that overall job market growth will be back at the levels of 2015.  The data collected by the BLS was captured during the unusual weather in the Mid-West and the East Coast in mid-march.  Other data that we have reviewed makes us believe the jobs data reported by the BLS understates the health of the IT Job Market and it's growth."  In addition, "Factors like the new H-1B guidance for programmers can only improve the prospects for US jobs.  The changes will have a positive impact, as a majority of people getting the visas were offshore outsourcers resulting in the elimination of U.S.-based system analysis and programming jobs."  However, he added, "… this change will increase costs for U.S. corporations as they employ more U.S. nationals."
Janco forecast that approximately 110K to 115K new IT jobs will be created this calendar year.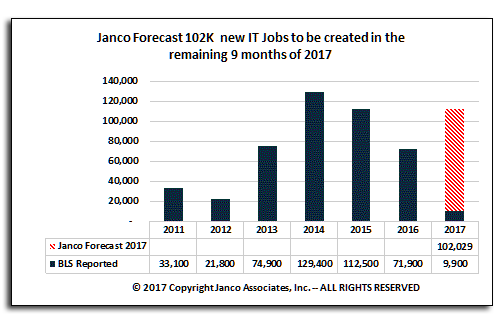 The overall IT job market is approximately 3.37 million jobs and growing in the greatest in the computer system design arena.  Telecommunications, on the other hand has lost over 30,900 jobs in the last 12 months.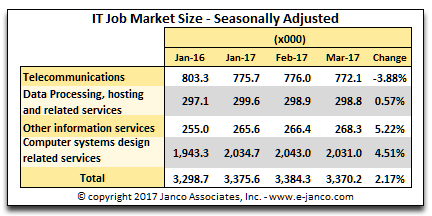 Janco is an international consulting firm that follows issues that concern CIOs and CFOs. The firm publishes a series of IT and business Infrastructure HandiGuides® and Templates including IT Infrastructure Policies and Procedures, Disaster Recovery/Business Continuity Template, Security Template, IT Job Descriptions, and its semi-annual IT Salary Survey.
Read on IT Hiring Kit Order IT Hiring Kit