Massive Growth in the Number of Jobs for IT Pros according to Janco
59,000 new IT Jobs created in the first seven months of 2018 – Janco forecasts at least 35,000 additional jobs will be created by the end of the year
Park City, UT — https://www.e-janco.com - Massive Growth in the Number of Jobs for IT Pros according to Janco, with 59,000 new IT jobs created in the January to July period.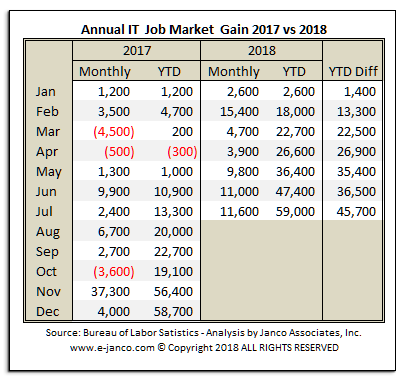 The CEO of Janco Associates, Inc., Mr. M. Victor Janulaitis said, "The economic picture has created a positive outlook for job growth in general and Information Technology in particular. Even with all the turmoil caused by the "trade wars" and  political uncertainty with the upcoming election, CIOs are hiring additional staff at breakneck speeds." He added, "As a result, IT Pros, for the first time in several years, have the freedom to find new jobs. This is resulting in an increase in the attrition rates within the IT function which CIOs need to deal with if they want to stay ahead of the game. To combat this many CIOs are planning for increases in pay added to budgets for 2019."
Analysis of IT Job Market growth shows that in 2018 there has already been an addition of 59,000 new jobs.  That is 45,700 more new jobs than were created in 2017.  Janco conducted several spot interviews with two dozen CIOs in the last week of July.  All of those interviewed said they were actively recruiting for IT professionals to for new development activities and replacements for those who have left in the last few months. Attrition rates are the highest they have been in the last several years.
The CEO of Janco added, "CIOs are now more optimistic about the direction their organizations are moving and are looking forward to increased budgets and staffing as they begin the 2019 budgeting cycle. The only down side that most see is the potential impact of the "trade wars" that seem to be starting."
---

NOTE: The graphic below is updated with each new IT Salary Survey. The chart compares the data from the period of the survey to 12 months prior.
---
Latest Median IT Salaries Updated Every Six Months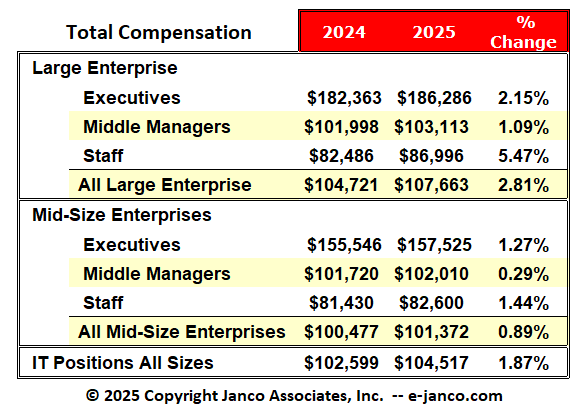 For the latest compensation data go to the current IT Salary Survey
---
Janco is an international consulting firm that follows issues that concern CIOs and CFOs. The firm publishes a series of IT and business Infrastructure HandiGuides® and Templates including IT Infrastructure Policies and Procedures, Disaster Recovery/Business Continuity Template, Security Template, IT Job Descriptions, and its semi-annual IT Salary Survey.