IT Jobs added at a record pace according to Janco
Janco forecast approximately 42,000 jobs will be added to the 56,800 already created – 100K new jobs in total
Park City, UT – (e-janco.com) The IT Job Market continues to be bullish. CIOs are optimistic and do not see any slowing in their hiring of staff, outside contractors, and consultants.  Even though there still are more position openings than qualified professionals available to fill them, the candidate pool is large enough for recruiters to find qualified candidates.  Janco has seen a slight increase in attrition rates due to more active recruiting and the compression of pay grades for some key positions.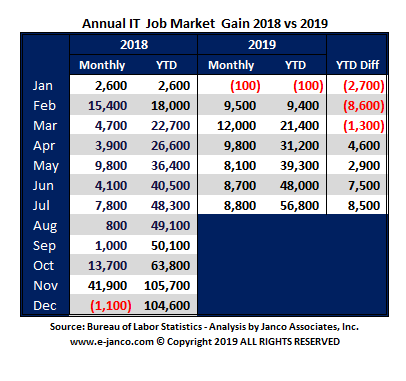 Janulaitis said, "The number of new jobs created continues unabated.  Most of the new positions created are beyond those of traditional business analysts and programmers.  With the emphasis on getting data closers to those who need it, applications being developed are mobile and designing user interfaces that comply with the latest security and privacy mandates is a priority. New skill sets are being recruited.  Legacy processing is taking a back seat."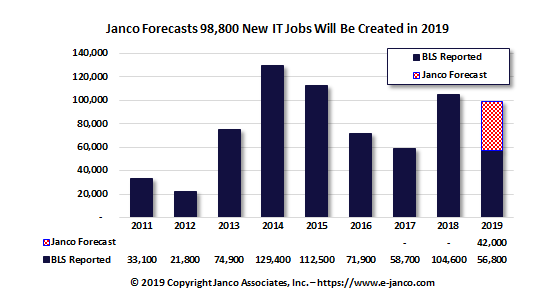 The CEO added, "IT Governance processes are gaining in importance as the scope of the IT function continues to expand into more operational areas of the enterprise.  To that end, we have just updated or IT Governance template to include controls and process associated with social networking, eCommerce and IoT implementations.  The IT Governance Infrastructure template now comes with eight (8) full job descriptions from the CIO to the Chief Experience Officer (CXO) and Chief Digital Officer"
Read On Order IT Governance Strategy Download Sample
The CEO said, "With the current growth of the IT job market and most enterprises planning on expanding the impact of technology on both external and internal operations, the outlook for IT professionals continues to be the brightest it has been in several years."
Janco is an international consulting firm that follows issues that concern CIOs and CFOs. The firm publishes a series of IT and business Infrastructure HandiGuides® and Templates including IT Infrastructure Policies and Procedures, Disaster Recovery/Business Continuity Template, Security Template, IT Job Descriptions, and its semi-annual IT Salary Survey.