Work From Home measures defined in KPI Metrics HandiGuide
Major updated to KPI Metrics HandiGuide Released by Janco
Park City – UT– e-janco.com – Janco Associates just announce the release of two products related to KPI metrics and Work from Home measurement criteria. The products are the KPI Metrics HandiGuide and the KPI Metrics, SLA, Outsourcing Job Description Bundle.
KPI Metrics HandiGuide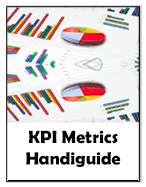 The KPI Metrics HandiGuide is over 280 pages in length and is divided in several major chapters
Organizational responsibilities - Defines organizational responsibilities before a successful KPI Metrics process can be implemented,
Technology Implications - Defines the technology implications of KPI metrics for Work for Home (WFH), Internet, electronication communicatgions, and networking.
KPI Metrics Design - Defines design for finanicial, staffing, Internet, competitive/comparative, productivity, system development, reengineering, QA, help desk, IT operations, technology and enteprise/industry specific metrics
Sample KPI Metrics - Presents a actural metrics including data presentation techniques and rules to be followed that are the most effective with management and user groups.
KPI Metrics Implementation - Provides an implementation plan with key rules that should be followed to integrate metrics and Service Level Agreements (SLAs) into his or her enterprise
Sample Reports - Presented with way to depict KPI data in a easy to understand format. With over 80 actual graphical reports with over 250 actual metics utilized by enterprises in various industries.
Appendix

KPI Metrics for Internet, Customers and Social Networks
Eight detail job descriptions for key implements and managers of the metrics process including: Chief Digital Officer, Chief Experience Officer, Digital Brand Manager, Manager Metrics, Manager KPI Metrics, Manager Service Level Reporting, Key Performance Indicator Analyst, and SEO Specialist
KPI Metrics Read On Order KPI Metrics Download Selected KPI Metrics Pages
KPI Metrics, SLA, and Outsoucing Job Description Bundle
Organizations use KPIs to evaluate their success at reaching targets. The 22 job titles that are associated with defining, implementing and monitoring them within the IT function are contained within this job description bundle.
Each job description comes as an individual file in MS WORD format. Each is at least 3 pages in lenght and some are 8 pages. They all have been updated and meet all manadated compliance requirments.
The job desciptions include:
Chief Data Officer
Chief Experience OLfficer
VP Administration
VP Strategy and Architecture
Digtal Brand Manager
Director IT Management and Control
Manager Contracts and Pricing
Manager Controller
Manager KPI Metrics
Manager Metrics
Manager Outsourcing

Manager Service Level Reporting
Manager Social Networking
Manager Vendor Management
Key Performance Indicator Analyst
Metrics Measurement Analyst
Quality Measurement Analyst
SEO Specialist
System Administrator Linux
System Administrator Unix
System Administrator Windows
Wi-Fi Network Administrator
Order KPI Metrics Job Description Bundle
Janco is an international consulting firm that follows issues that concern CIOs and CFOs. The firm publishes a series of IT and business Infrastructure HandiGuides® and Templates including IT Infrastructure Policies and Procedures, Disaster Recovery/Business Continuity Template, Security Template, IT Job Descriptions, and its semi-annual IT Salary Survey.