IT Job Market shrinks by 13K jobs in Q1
IT job market grew by 23,500 jobs YTD
BLS adjusts up the number of IT Pros hired in February and March by 12,100
(Park City UT – Janco Associates Inc. (https://e-janco.com) –  Janco reports that YTD, the IT job market grew by 23,500 jobs in the first four months of 2023.  That is in contrast with 53.8K jobs that were created in the same period of 2022.  The IT Job market has recovered from the layoffs by the big tech companies including Accenture (39,000), Microsoft (2,700), Meta (11,000), and Alphabet (12,000) which resulted in over 158,000 tech workers and IT Pros being terminated. The tech centers of San Francisco and Seattle got the headlines, but these reductions in the number of IT Pros employed occurred nationwide.
Janco has revised its forecast for the IT Job market upwards from 60K-70K to 80K-90K for the calendar year 2023.
The growth of the IT job market stopped in January with a decline of 2,600 jobs and the BLS initially reported there was a loss of 11,600 jobs in February and a slight gain of 500 jobs in March.  They revised their data to show a gain of 4,900 jobs in February and 7,700 in March. Currently, there is an excess of 145K unfilled jobs for IT Pros due to a lack of qualified candidates.
IT Job Market Size Adjustments - Prior Two Months

BLS adjusted up the number of jobs for IT Pros by 8,400 for the prior two months
Before adjustments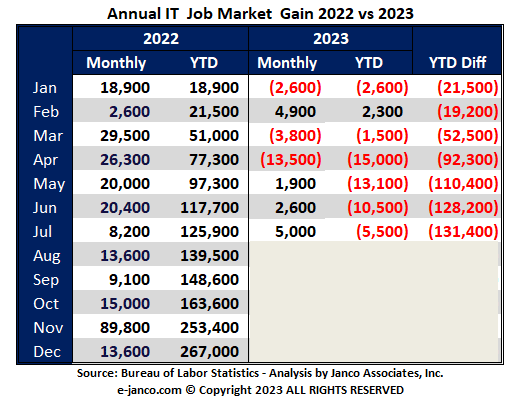 After Adjustments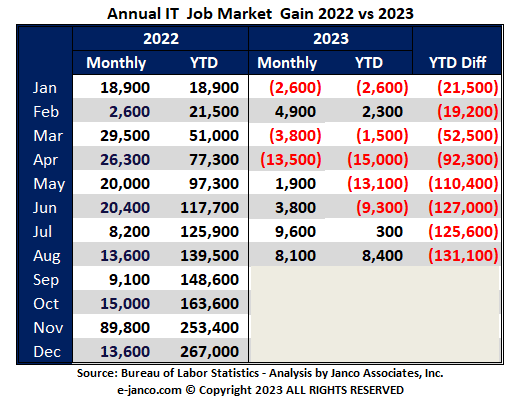 The CEO of Janco, M. Victor Janulaitis said, "Based on our analysis, the IT job market and opportunities for IT professionals continue to be good.  In the first four months of 2023, the big losers were information service providers losing 5,500 jobs, and content providers losing 1,000 jobs.  The jobs lost were in data center operations, administrative and HR roles related to recruiting, and DEI (diversity, equity, and inclusion).  Some roles, especially in telecommunications and data center operations are being automated and eliminated.  Driving this is, CIOs and CFOs who are looking to improve the productivity of IT by automating processes and reporting where possible.  They are focusing on eliminating "non-essential" managers and staff. Experienced coders and developers still have opportunities. The highest demand continues to be for security professionals, programmers, and blockchain processing IT Pros. Currently, there are over 145K unfilled jobs."
He said, "There continues to be a general belief there will be an economic downturn by many CIOs and CFOs. This is impacting all decisions around hiring new IP Pros and increasing technology-related expenditures.  Given these facts, we believe that median salaries for IT Pros in 2023 will be 3-4% salary above 2022 levels, not the 7%-8% that was budgeted for 2023." 
The CEO added, "According to the latest BLS data analyzed, there are now just under 4.2 million jobs for IT Professionals in the US. Layoffs at big tech companies had a brief adverse on overall IT hiring. CIOs are looking at a troubling economic climate and are evaluating the need for increased headcounts based on the technological requirements of their specific business operations."
Growth of IT Job Market (updated)
The number of IT jobs not filled now is just over 100K. Janco's initial forecast for the number of new IT jobs to be added in 2023 is between 20K-30K. Overall that is a flattening of the long term growth rate pattern of IT job market.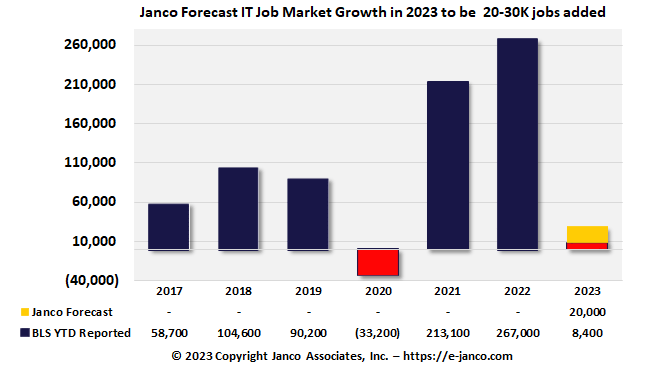 Data complied and forecast updated by Janco Associates with data as of September 2023
With this as a background, Janco forecasts the growth of the IT Job Market in 2023 to be in the 80K to 90K range.  That will be less growth than in 2021 and 2022, but still with some growth in the latter half of this year.  To assist in managing these troubled times, Janco has just released the 2023 edition CIO Management Tool Kit.  See https://e-janco.com/it-management-toolkit.html. This tool kit has been updated to reflect changes to the IT Infrastructure caused by compliance mandates and the current economic environment - including WFH and Cloud processing. It meets all the mandated security requirements and best practices.
Janulaitis said, "Many of the issues faced by the economy continue to be due to ongoing supply chain problems.  If China opens fully, overall supply chains should improve but will take several months to completely recover.  That should lessen the recessionary pressures that are driving companies to reduce staff."
Janco is an international consulting firm that follows issues that concern CIOs and CFOs. The firm publishes a series of IT and business Infrastructure HandiGuides® and Templates including IT Infrastructure Policies and Procedures, Disaster Recovery/Business Continuity Template, Security Template, IT Job Descriptions, and its semi-annual IT Salary Survey.
Read on IT Hiring Kit Order IT Hiring Kit