Recession Hits IT - 117,000 IT Pro are unemployment
Unemployment of 4.3% for IT Pros higher than the national rate
National Unemployment Rate is 3.8% IT Pro Unemployment Rate Soars to 4.3% in September
(Park City UT – Janco Associates Inc. https://e-janco.com) – Janco reports that job market for IT Pros took a turn for the worst as IT unemployment rate soared to 4.1% with 117,000 unemployed - that despite almost 130K unfilled open requisitions. In July there were 64K unemployed IT Pros, In August there were 106K - a 65% increase. In the last three months there was a loss of 14,300 jobs. Janco will be publishing it full set findings on Substack (https://itmanager.substack.com/).
IT Job Market Size Adjustments - Prior Two Months

BLS adjusted up the number of jobs for IT Pros by 11,800 for the prior two months
Before adjustments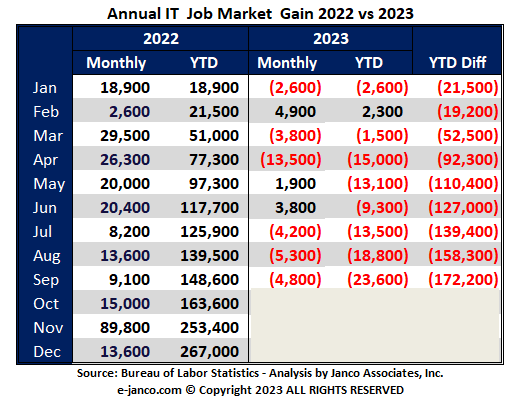 After Adjustments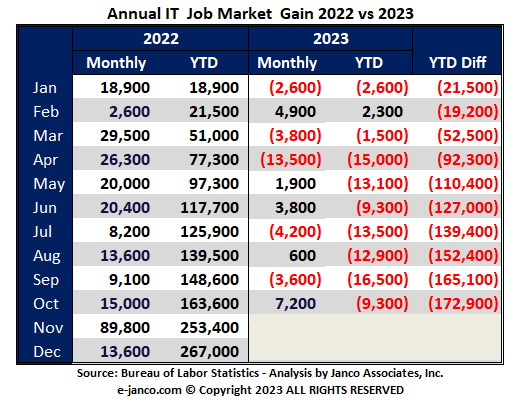 The BLS adjusted downward the number of jobs initially added in July (-4,200) and August (-13,400). That reduction by the BLS of 17,600 jobs erased the gains that were previously reported.
National Unemployment Rate versus IT Pros Unemployment Rate
In the August report from the BLS the National Unemployment Rate was 3.8% versus 4.1% for IT Professionals.
There currently are over 106,000 unemployed IT professionals and the unemployment rate for IT professionals continues to rise.
---
IT Job Market Forecast - September 2023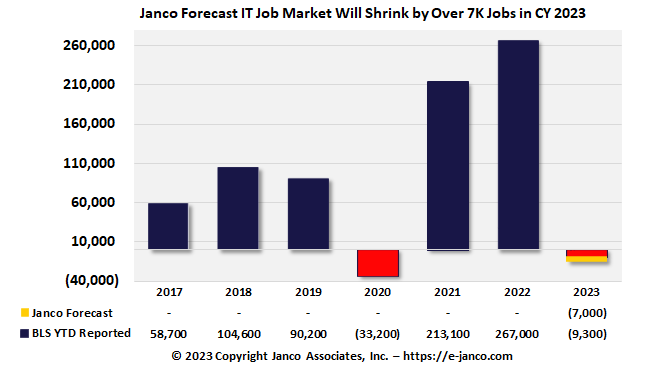 There has been a major shift in the creation of new IT Jobs - economic slowing is the driver. We estimate that the IT Job market will shrink by in 2023 by around 10K.
---
The CEO of Janco, M. Victor Janulaitis said, "Based on our analysis, the IT job market and opportunities for IT professionals are poor at best. In the past twelve months, telecommunications lost 25,800 jobs, content providers lost 10,500 jobs, and other information services lost 7,300 jobs. Gainers in the last three months, computer system designers gained 40,100 jobs and hosting providers gained 16,200. Currently, there are almost 130K unfilled jobs with over 117K unemployed IT Pros - a skills mismatch."
The CEO added, "AI is slowing the growth of many entry level positions within IT, especially in customer service, telecommunications, and hosting automation.  CIOs and CFOs are looking to improve the productivity of IT by automating processes and reporting where possible. They are focusing on eliminating "non-essential" managers, staff, and services. Experienced coders and developers still have opportunities. The highest demand continues to be for AI, security professionals, programmers, and blockchain processing IT Pros. "
Janulaitis expanded, "AI is displacing some IT Pros and eliminating some entry level positions as tools for AI are enhanced in ChatGPT, Natural language procession (NLP), TensorFlow (Google), Image Processing, PyTorch (Facebook), generative AI content creation, Midjourney, AI chatbot, Model tuning, and Sable Diffusion." (see https://itmanager.substack.com/p/it-pros-with-ai-skills-in-high-demand)
He said, "There continues to be a general belief there will be an economic downturn by many CIOs and CFOs. This is impacting all decisions around hiring new IT Pros and technology-related expenditures. This has impacted the salaries of IT Pros (2023 Mid-Year Salary Survey) with a major impact on the compensation of IT Executives."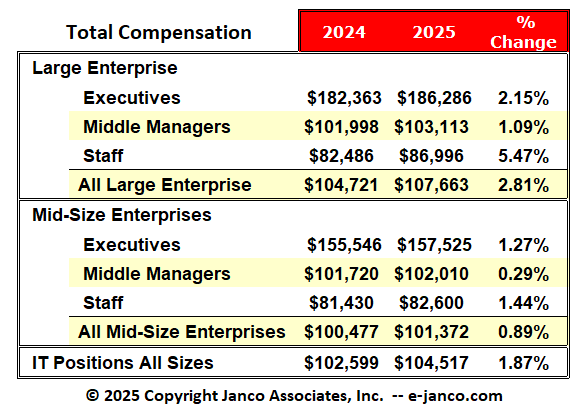 Updated with the latest data
The CEO added, "According to the latest BLS data analyzed, there are now just under 4.19 million jobs for IT Professionals in the US. Layoffs at big tech companies continue to hurt overall IT hiring. CIOs are looking at a troubling economic climate and are evaluating the need for increased headcounts based on the technological requirements of their specific business operations."
Read on Salary Survey Order Salary Survey Download Summary