IT Infrastructure Electronic Forms
Structure and rules drive successful IT organizations. Janco has developed a number of forms as its consultants help world class IT organizations to implement best practices as defined by its templates. Even if you do not think you need the templates you still can get a lot a value from the design and implementation of its forms.
Why use electronic forms?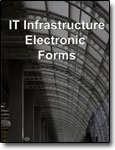 By allowing the exchange of information more quickly, easily, and dependably than ever before,
the Internet and mobile devices have forever changed the way things are done. That revolution has made paper documents part of the past.
People no longer need to spend time or money printing, faxing, physically delivering and storing paper documents, when you can accomplish better results in just a few minutes with an electronic document? In fact, today's electronic alternatives are not just analogous to, but clearly superior to, their paper equivalents. Indeed, the options offered by new technologies not only provide greater security than traditional forms, but facilitate authenticated transactions in better ways than paper permits.
Electronic documents and forms improve productivity and also substantially improve control, security, and verifiability beyond anything previously possible.
With these forms you can spruce up your Disaster Recovery and Business Continuity plans as well as improve the processes that are in place to maintain security and minimize risks of all types.
Order Electronic Forms Download Selected Electronic Forms
---
The best way to get these tools is by getting the CIO IT Infrastructure Policy bundle.
Read On Infrastructure Policies
Order IT Infrastructure Policies Download Selected Pages