Safety Program HandiGuide - Work From Home Addressed
Includes Internet of Things (IoT) and meets all mandate safety requirements including US OSHA, ISO, GSR, EU, and UNECE - Available with ready to use electronic forms that work on SmartPhones, tablets, and laptops
Comes in MS Word, eReader (ePub), and pdf formats - All electronic forms come as fillable pdf forms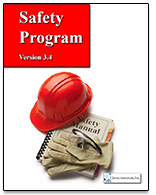 Companies in the US, the EU, and the UK recognize that cultivating a safety culture is critical, not just internally but also across their own employees but also their contractor and supplier workforce. The focus is on helping to reduce the potential risks and costs associated with injuries in the workplace.
Includes OSHA forms that need to be filed electronically. 300, 300A, and 301 come as pdfs and an excel spreadsheet that can be used for the electronic filing.
Only Janco's Safety Program HandiGuide delivers a comprehensive solution for safety compliance, combining its knowledge of the broad spectrum of risks, mandated compliance requirements and the drive to continuously improve the safety culture across the entire workplace.
Order Safety Program Download Selected Pages
The template has been updated to include electronic forms that can be Emailed, completed on a PC, iPad, tablet, or laptop, and filed electronically. A completely green process.
The template includes two full job descriptions: Supervisor Safety Program and Manager Safety Program.
Safety Program Forms
Area Safety Inspection
Employee Job Hazard Analysis
First Report of Injury
Inspection Checklist - Alternative Locations
Inspection Checklist - Computer, Server, Data Center
Inspection Checklist - Office Locations
Inspection Checklist - Work From Home Locations
New Employee Safety Checklist
Safety Program Contact List
Work From Home Checklist
Training Record
OSHA 300 - Log of Work Related Injuries and Illnesses
OSHA 300A - Summary of Work Related Injuries and Illnesses
OSHA 301 - Injuries and Illness Incident Report
All of these forms are contained within the Safety Program Template and the DR/BC Template.
You can either cut and paste the forms you need directly out of the MS WORD template or use the MS WORD files that contain the individual forms so they can be customized for your particular requirements (OSHA forms in an Excel file and/or PDF file). A sample of one of these forms is provided when you download the table of contents from the link above.
Safety Program Job Descriptions
Also included are full job descriptions for the Manager Safety Program, Supervisor Safety Program and optionally Director Safety Program in the Premium Edition.
The Safety Program Template addresses all of the issues associated with mandated safety requirements. This Safety Program can be used as a template for any size enterprise.
The Safety Program template is 60 pages and includes everything needed to customize the Safety Program to fit your specific requirement. The Safety was updated in March 2023 and reflects the latest issues associated with the most recent legislation and mandates -- ISO Supply Chain Management, GDPR, Sarbanes Oxley, and OSHA.
The electronic document includes proven written text and examples for the following major sections of a disaster recovery plan:
Policy Statement
Safety Rules - including a check list of standard proven rules
Accident Investigation Process
Hazard Recognition and Control
Safety Committee including membership and procedures
Training including guidelines for orientation, job instruction, Supervisor training as well as specialized training
Communication including for management and employees
Record Keeping including inspection; accident investigation; training and coordination with Safety Committee.
Job Description for Safety Director (ADA compliant)
Technical Appendix including definition of necessary phone numbers and contact points; and sample forms:

First Report of Injury
Safety Audit Checklist
Alternate Work site Safety Checklist (i.e. work at home)
WFH Checklist
Inspection Checklist
Employee Job Hazard Analysis Acknowledgment
Area Safety Inspection Report
Inspection Checklist Alternative Location
Safety Program Contact List
Training Record

Instructions for electronic filing of OSHA reports
There is an extensive description that shows how a full test of the Safety Program can be conducted.
Order Safety Program Download Selected Pages