Total Compensation Calculation
---
When looking at adding new staff, CIO and HR managers need to include more than the base salary in the compensation calculation

Total Compensation Calculation - When most of us hear the term "compensation", typically people only think of the money they receive in their paycheck each payday. However, "Total Compensation" goes beyond salary, it is the complete pay package for employees. For IT professionals this includes all forms of money, benefits, services, and other "perks" they are eligible for as employees of the enterprise.
Total compensation can be defined as all of the resources available to employees, which are used by the employer to attract, motivate and retain employees.
There are a number of items that contribute to our compensation, including bonuses, stock options, professional training, health and dental benefits, retirement benefits like company 401K contributions, education assistance, and paid time off. A significant part of total compensation for many is the benefit package. In some case availability of employee paid items like 401Ks and company health insurance for family members at a reduced rate have a definite value associated with them.
Janco Associates and EJobDescription.com have conducted total compensation analysis for over 25 years and have seen overall benefits decrease over time.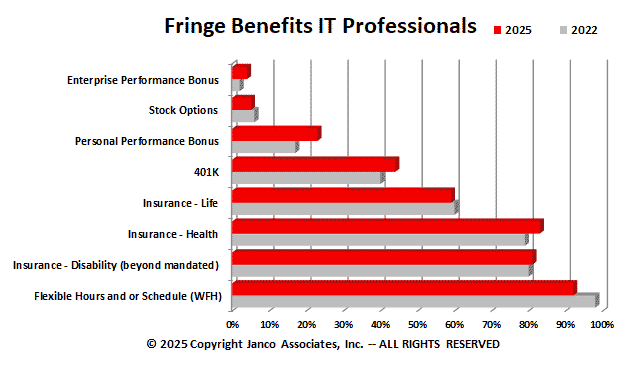 The current allocation of base pay of 72% for all IT professionals is based on an analysis of the data provided to Janco.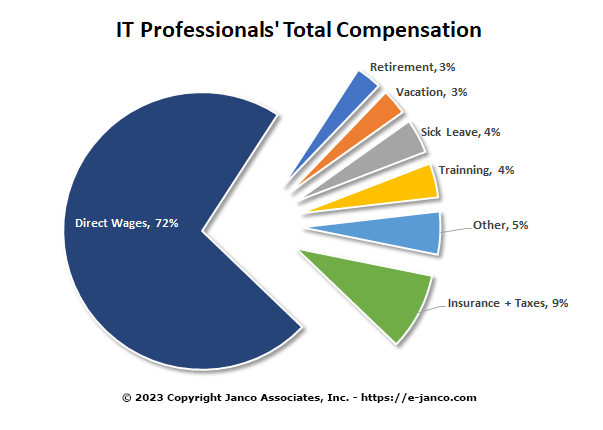 Order Salary Survey Download Sample Provide Data