IT Job Market Recovery is Real
After 15 years the total number of jobs in the job market reaches the peak employment of the dot com bubble
IT Job Market Recovery is Real - The peak number of jobs in the IT job market in 2000 (top of the dot com bubble) was 3.2 million jobs . When the bubble hit the number of IT job plummeted by over 600,000 (18%) and it took over 15 years to recover.
Not all sectors of the job market have gotten back to the initial levels. Telecommunications has fallen from 1.4 million to 863 thousand while computer system design and related services have grown from 1.3 million to 1.8 million.
Historic IT Job Market Size - Over 4.19 Million Employed as IT Pros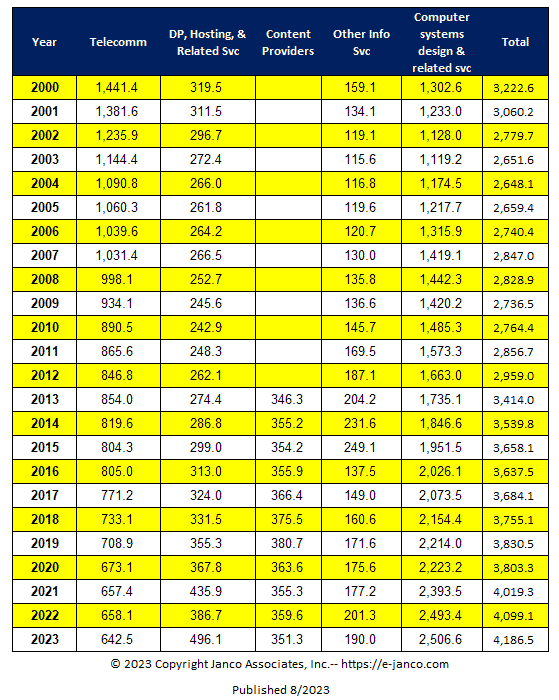 This is not the original data that was published.
It has been updated with data complied by Janco Associates with data as of September 2023.
Much of the change in the IT job market reflects changes in the way that applications and IT work today. There has been a movement away from hard wired telecommunications and phone services to mobile devices and w-fi networks. In addition the increase in cloud processing outsourcing has accelerated the need for more resources in the system design and related fields.
As this trend continues, we believe the number of system designers will increase. However we feel that more tools will be created to assist in that. In turn that will dampen the growth there.
Order Salary Survey Download Sample Provide Data