Tenure of CIO and IT Pros is better than the average tenure of US Labor force
Telecom workers have tenure of 7.5 years while US Labor Force has 4.1 years
Janco has just completed an analysis of the current and historic tenure of the U.S. labor force, telecom workers, professional and technical staffs (IT Pros), and CIO. The findings show that telecommunication workers are seeing a dramatic increase in tenure as the number of telcom job decreases.
It is almost like switchboard operators in the 50's and telephone receptionists in the later part of the 90's. In both cases, as the number of jobs disappeared the more tenured employees remained in their positions. The same pattern is taking hold for telecom workers.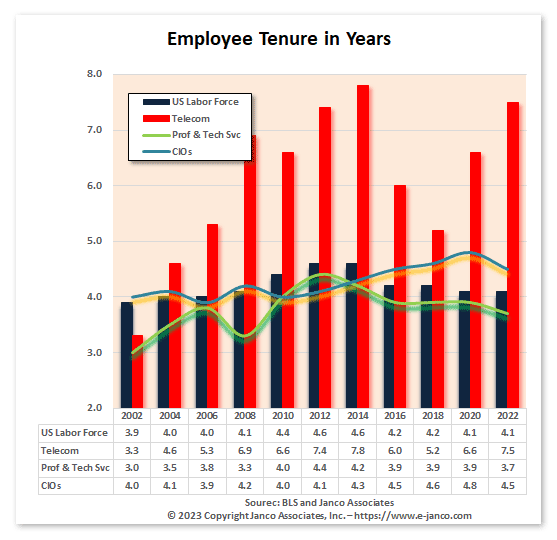 Telecom workers tenure peaked in 2014. Since then automation and AI have taken hold. As positions were eliminated the longest tenured employees remained in place while entry level positions were eliminated. In 2010 the total number of telecommunicztion jobs was 890,500, in 2022 it has shrunk to 668,900.
Over all US Labor Force Tenure
Since 2002 the average tenure for the US labor force has moved from 3 years and 11 months to 4 years and 2 months in 2022. At the same time, the overall number of the individuals employed in the US labor market has grown to 164 million individuals.
IT job market size
The overall IT job market has increased to over 3.97 million individuals. The greatest increases have been with individuals classified as Computer Systems Design and related services. Salaries for those individuals can be upwards of $120K to $150K.
Historic IT Job Market Size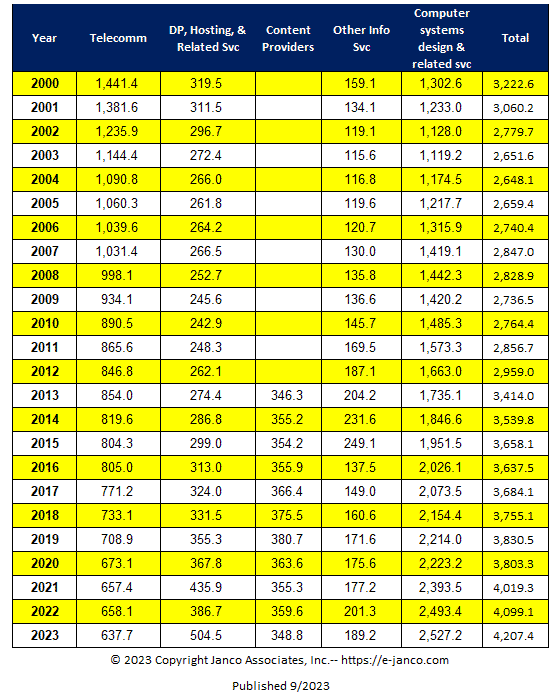 Data complied by Janco Associates with data as of September 2023
Read on IT Job Market