Compliance Management Version History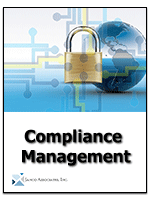 The Compliance Management White Paper is updated as mandates and new technologies are added. When you order the original product you are automatically provided with 3 months of update service.
You have the option to order 12 or 24 months of service at that time. In addition, we will send update notifications with special pricing for the updates subscription service.
The Compliance Management Kit comes in three (3) versions. When you order the update subscription service you will automatically be enrolled into the update subscription service for each of the components that are contained within that version.
Read On Order Compliance Management Kit Download TOC
---
Version History
2023 Edition

Added section on ISO 28000 Supply Chain to main body
Added ISO 28000 - Supply Chain Compliance Audit
Updated all included job description
Updated all included forms
Updated all included policies

2022 Ver 1.1 Edition

Added standalone version of HIPPA Audit Program

2022 Edition

Updated meet the latest mandated requirements
Added Compliance Management Governance Purchase options table

2021 Edition

Updated meet the latest mandated requirements