Compliance Management Job Descriptions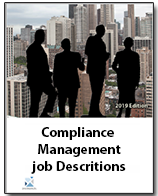 The Compliance Management Team serves as the focal point for compliance activities. The team typically is composed of persons of high integrity, having other duties that are not in conflict with the compliance goals.
Coordination and communication are the key functions of the Compliance Management with regard to planning, implementing, and monitoring the compliance program
They are key to the creation and management of the enterprise's overall compliance management strategy.
| | |
| --- | --- |
| Compliance Management Job Description Bundle | Order |
Compliance Management Job Description Bundle includes 25 full job descriptions in MS WORD and PDF formats. They are:
Chief Compliance Officer (CCO)
Chief Data Officer
Chief Mobility Officer
Chief Security Officer
Data Protection Officer
Director Electronic Commerce
Director IT Management and Controls
Director Sarbanes-Oxley Compliance
Manager Blockchain Architecture
Manager BYOD Support
Manager Compliance
Manager E-Commerce
Manager Enterprise Architecture

Manager Internet Systems
Manager Record Administration
Manager Transaction Processing
Manager Video and Website Content
Manager Web Content
Manager Wireless Systems
PCI-DSS Administrator
System Administrators - Linux
System Administrators - Windows
System Administrators - UNIX
Webmaster
Wi-Fi Network Administrator
---
Security Management Team Driving Information and Data Security
For those who need Security Management and Security operational job descriptions that are related to security management and usage of Information Technology there is a bundle of just those positions.
| | |
| --- | --- |
| Security Job Description Bundle | Order |
With all of the security and hacker breaches, IT is faced with some difficult phalanges. Janco's Security Manual Template is one solution. It is augmented with the 25 full job descriptions which define specific roles an responsibilities. Included is a bonus of a pay scale summary for the Security Job Family. This was created as part of Janco's semi-annual IT Salary survey.
The job descriptions included in this bundle are:
VP Strategy - Architecture
Director e-Commerce
Database Administrator
Data Security Administrator
Manager Compliance
Manager Data Security
Manager Facilities and Equipment
Manager Network - Computing Services

Manager Network Services
Manager Security and Workstations
Manager Training - Documentation
Manager Voice and Data Communication
Manager Wireless Systems
Information Security Analyst
Network Security Analyst
System Administrator - Linux
System Administrator - Unix
System Administrator - Windows
Wi-Fi Administrator