Disaster Recovery Processes are Key to Business Continuity
A disaster recovery (DR or BCP) plan provides a structured approach for responding to unplanned incidents. That minimizes threats to the enterprise's infrastructure. That includes hardware, software, networks, processes and people. Protecting your firm's investment in its technology infrastructure, and protecting the firm's ability to conduct business are the key reasons for implementing a disaster recovery plan. Janco's free disaster recovery - business continuity template will help facilitate the initiation and completion of a DR plan.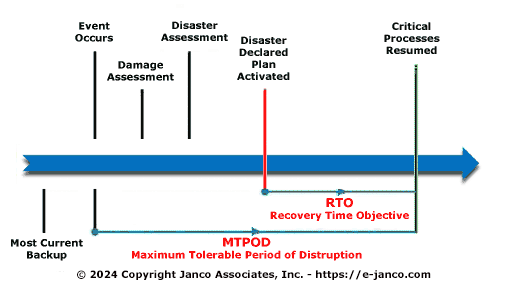 ISO 27000, SOX, PCI-DSS & HIPAA Compliant


Janco's Disaster Recovery Template can be used for any size of enterprise. The Disaster Recovery template and supporting material have been updated to be Sarbanes-Oxley and HIPAA compliant. This tool comes as both a Word document and a static fully indexed PDF document and includes:
DR/BC Template,
Business and IT Impact Analysis Questionnaire,
Work Plan,
Disaster Recovery / Business Continuity Audit Program, and
Pandemic Planning Checklist.
Preparation for a continuation of operations in light of SOX has two primary parts. The first is putting systems in place to completely protect all financial and other data required to meet the reporting regulations and to archive the data to meet future requests for clarification of those reports. The second is to clearly and expressly document all these procedures so that in the event of a SOX audit, the auditors clearly see that the DRP exists and will appropriately protect the data.
Included with the template are
Electronic Forms
which have been designed to lower the cost of maintenance of the plan. Electronic Forms that can be emailed, completed via a computer or tablet, and stored electronically including:
LAN Inventory,
Location Contact Numbers,
Off-Site Inventory,
Personnel Locations,
Plan Distribution,
Remote Location Contact Information,
Team Call List, and
Vendor Contact Information, and
Vendor Partner Questionnaire
The premium edition contains full job descriptions. They are:
Chief Information Officer
Chief Compliance Officer
Chief Digital Officer
Chief Experience Officer
Chief Mobility Officer
Chief Security Officer
VP Strategy and Architecture
Digital Brand Manager
Director Disaster Recovery and Business Continuity
Director e-Commerce
Director Media Communications

Manager Database
Manager Disaster Recovery and Business Continuity
Manager Disaster Recovery
Manager Media Library Support
Manager Record Administration
Manager Site Management
Manager Social Networking
Capacity Planning Supervisor
Disaster Recovery Coordinator
Disaster Recovery - Special Projects
Pandemic Coordinator