Disaster Recovery Guide
Business Continuity Planning
ISO 27001, ISO 27002, ISO 17799, ISO 22301, COBIT, Sarbanes-Oxley, and HIPAA Compliant
Order DRP BCP Template DRP BCP Sample
The Disaster Recovery Guide can be used for any sized enterprise. The template and supporting material have been updated to be Sarbanes-Oxley, Cobit, ISO, HIPAA and PCI-DSS compliant. The complete package includes:
Disaster Recovery Planning and Business Continuity Template
Business and IT Impact Analysis Questionnaire
Work Plan
Disaster Recovery / Business Continuity Audit Program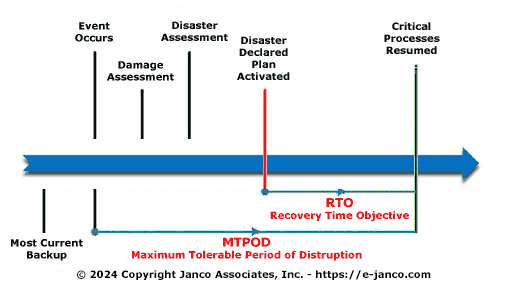 New are (Version History):
Web Site Disaster Recovery Planning Form

Department Disaster Recovery Activation Workbook

Quick Reference Guide

Team Alert List (Form)

DRP Team Responsibilities

DRP Team Checklist

Critical Function(s) Definition

Normal Business Hour Response Procedures

After Hours Response Procedures

DRP Location(s) Definition

DRP Recovery Procedures

Notification Procedures

Notification Call List (Form)

Vendor Disaster Recovery Questionnaire

Vendor Phone List Form Updated

Key Customer Notification Form

Critical Resources to be Retrieved Form

Business Continuity Off-Site Materials Form
Included with the template are
Electronic Forms
which have been designed to lower the cost of maintenance of the plan. Electronic Forms that can be emailed, completed via a computer or tablet, and stored electronically including:
LAN Inventory,
Location Contact Numbers,
Off-Site Inventory,
Personnel Locations,
Plan Distribution,
Remote Location Contact Information,
Team Call List, and
Vendor Contact Information, and
Vendor Partner Questionnaire
With the template is a 3 page Job Description for the Disaster Recovery Manager. The PREMIUM Bundle contains the following key job descriptions:
Chief Information Officer
Chief Compliance Officer
Chief Digital Officer
Chief Experience Officer
Chief Mobility Officer
Chief Security Officer
VP Strategy and Architecture
Digital Brand Manager
Director Disaster Recovery and Business Continuity
Director e-Commerce
Director Media Communications

Manager Database
Manager Disaster Recovery and Business Continuity
Manager Disaster Recovery
Manager Media Library Support
Manager Record Administration
Manager Site Management
Manager Social Networking
Capacity Planning Supervisor
Disaster Recovery Coordinator
Disaster Recovery - Special Projects
Pandemic Coordinator
Clients can also subscribe to Janco's DRP update service and receive all updates to the DRP Template*.
The DRP template is over 220 pages and includes everything needed to customize it to fit your specific requirement. The electronic document includes proven written text and examples for the following major sections:
Plan Introduction

Business Impact Analysis - including a sample impact matrix

DRP Organization Responsibilities pre and post disaster - drp checklist

Backup Strategy for Data Centers, Departmental File Servers, Wireless Network servers, Data at Outsourced Sites, Desktops (In office and "at home"), Laptops and PDA's.

Recovery Strategy including approach, escalation plan process and decision points

Disaster Recovery Procedures in a check list format

Plan Administration Process

Technical Appendix including definition of necessary phone numbers and contact points

Job Description for DRP Manager (3 pages long) - entire team job descriptions are available.

Work Plan to modify and implement the template. Included is a list of deliverables for each task.
There is a extensive section that shows how to conduct full test of the DRP. It includes
Disaster Recovery Manager Responsibilities

Distribution of the Disaster Recovery Plan

Maintenance of the Business Impact Analysis

Training of the Disaster Recovery Team

Testing of the plan

Evaluation of the plan tests

Maintenance of the plan
Order DRP BCP Template DRP BCP Sample
This template is not for resale or re-distribution - Disaster Recovery Planning Template Disaster Recovery Template