Disaster Recovery Plan Template Business Continuity
ISO27000, Sarbanes - Oxley, PCI-DSS & HIPAA Compliant
Multi-Country License Options
The Global Standard for Disaster Recovery and Business Continuity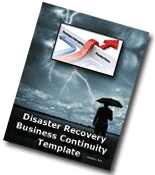 Disaster Recovery Plan Template Business Continuity - The Disaster Recovery Plan (DRP) Business Continuity (BCP) can be purchased for use for either by a single company in a single country, single company in a country group like the EU, or by a single company for worldwide use.
License Options
Standard LicenseA single (1) country for a single (1) company (DUNS number)


Enterprise LicenseA country group (North America, Central America, South America, EU, Africa, Middle East, Asia, or Pan-Pacific) for multiple related company groups -- Note -You can also order an upgrade from the standard License to the Enterprise License.

Worldwide LicenseWorldwide (International) use for multiple related company groups
---
License Conditions
The template can be placed on the enterprise's Intranet and be used as the standard for all  divisions and operating units of the enterprise. The template is not for re-sale or re-distribution by consultants or VARs. If a consultant or a VAR wishes to use this for its clients Janco Associates should be contacted directly
Janco can provide coordination services for the enterprise on a time and materials basis. In addition Janco can save copies of a companies customized DRP in its archives for retrieval in by the enterprise.
 Contact us directly for pricing of these services at +011 435 940-9300 x 101.
---
Testimonials
Testimonial - Dave Baker - City of Hamilton -I have found the DRP template invaluable!

Testimonial - Bob Rifenbury -mCSE/CCNA Launch Testing Lab -The DRP Template saved me about 6 months of work!

Testimonial -  Kelly Keeler - Martin's Point Health Care -I have received and I began using the template immediately. IT IS GREAT! Made this process a snap for me. Cut my documentation time down from. weeks to hours! This document has made, what began to be an overwhelming process turn into a snap!

Testimonial - Juan Stamos - Mexico City Corporation -We had a DRP in place, but needed a more user friendly structure. The Disaster Recovery Template (Gold edition) has that structure. It was very easy to quickly move our DRP into Janco's DRP Template -- a real added value.
---
This template is not for resale or re-distribution - Disaster Recovery Planning TemplateDisaster Recovery Template, Disaster Recovery
---

Disaster Recovery / Business Continuity Multi-Site Implementation Considerations