Record Management Key to Information Governance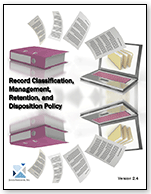 With all of the new mandated requirements, record management and information governance are high on the agenda of many enterprises.  Effective record management and information governance provides a foundation for addressing the various challenges faced with electronic information, including:
Management of information growth. Proactively monitoring and managing what content is being stored based on business value and record keeping obligations;
Mitigation of risk. Reducing risk and ensuring conformance with different regulatory, legal and business policies; and
Management of access to content. Driving competitive advantage and improving business operations through both access control and better re-use of information.
Policy is at the heart of each of these challenges and key to an information governance strategy.
Information governance is most effective when policies can be carried forward consistently with enabling technologies. Foundational technologies at the core of a good information governance strategy include classification, security and access control, retention policy management, search, archiving and content management.
Read On Order Record Management Policy Download Selected Pages
---
IT Salaries Fall -- Hiring at All Time Low
As the economy continues to languish, IT salary trends offer little hope to both working and unemployed IT professionals, as companies cut wages and fewer high-tech positions become available due to attrition.
---

NOTE: the table below is updated automatically with the latest IT salaries when a new salary survey is published. That happens every January and June. The historical data is available.
---
Latest Median IT Salaries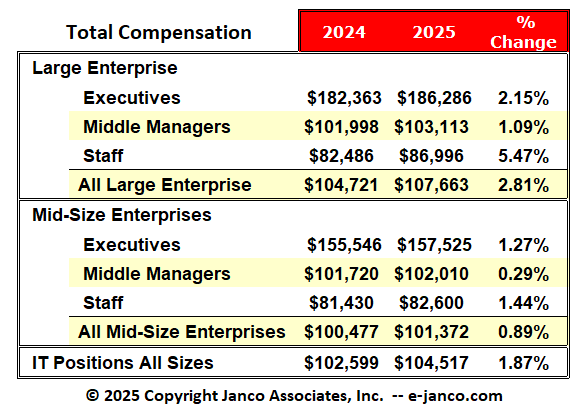 For the latest data go to the current IT Salary Survey
---
Janco Associates has released data from its 2009 Mid Year IT Salary Survey that proves compensation for high-tech workers isn't improving, but declining as more companies prepare themselves for a long economic recovery.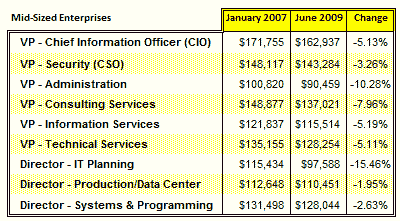 "The current economic climate with its cost-cutting mind-sets, business closures and extensive outsourcing has put such a great pressure on the IT job market that overall pay has been impacted," said Victor Janulaitis, CEO of Janco, in a statement. "Added to that, many baby-boomers who had planned on retiring in the next few years are not leaving the job market and you have more potential employees than positions available."
Enterprises that participate will be sent a summary of the January 2010 IT Salary Survey when it is released.
Read on Salary Survey Order Salary Survey Download Summary
---
Security Issues Abound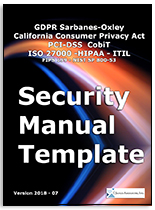 Most enterprises face data security breaches because of lost or stolen laptops, PDAs, SmartPhones, and USB storage devices. Industry experts have found that:
Laptop and mobile device theft is experienced by 50% of security professionals
Every 50 seconds a laptop goes missing - and that is just at U.S. airports
85% of privacy and security professionals had at least one reportable breach in the past 12 months
The cost of recovering from a single data breach now averages $6.3 million
66% of data breaches involved data the victim did not know was on the system.
Read on Order Security Manual Template Download sample