Record Classification, Management, Retention, and Destruction policy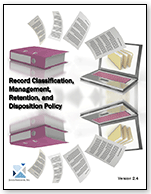 There are many common myths about tape, disk, data protection and archiving, one, for example, being that archiving and long-term data retention are only for regulatory compliance purposes. The reality is that while regulatory compliance data, including Sarbanes-Oxley, ISO, financial or HIPAA medical, require long-term retention, many other common application data for almost every business, including those that do not fall under regulatory requirements, can benefit from - if not require - long–term data retention. The notion is to think beyond regulatory compliance. In other words, organizations of all sizes need and rely on information, both current and past.
Template includes citations for Federal and selected state record retention requirements
Order Record Management Policy Download Selected Pages Version History
A record is essentially any material that contains information about your company's plans, results, policies or performance. In other words, anything about your company that can be represented with words or numbers can be considered a business record - and you are now expected to retain and manage every one of those records, for several years or even permanently depending on the nature of the information. The need to manage potentially millions of records each year creates many new challenges for your business, and especially for your IT managers who must come up with rock-solid solutions to securely store and manage all this data.
The Record Classification, Management, Retention, and Destruction policy is a detail template which can be utilized on day one to create a records management process. Included with the policy are forms for establishing the record management retention and destruction schedule and a full job description with responsibilities for the Manager Records Administration.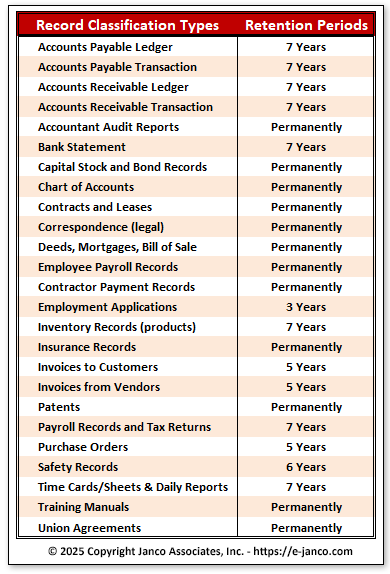 Unitied States Employers have a number of record retention requirments that are mandated by the federal government.
The areas included with this policy template are:
Record retention requirements for SOX sections 103a, 302, 404, 409, 801a and 802.
Policy
Standard

Scope
Responsibilities
Record Management
Compliance and Enforcement
E-mail Retention and Compliance

Job Description Manager Record Administrator
12 forms for Record Retention and Disposition Schedule
Record Management Best Practices
You can download the Table of Contents and selected pages for this policy template.
Managing backup and recovery in today's environment is a multi-dimensional challenge with both near and long term business requirements. Recent technological developments in disk backup have had a positive impact on short term data retention requirements. But these improvements do not replace the need to execute and deliver on a long term data retention strategy which includes:
Business and Regulatory Requirements Demand a Long-term Plan
Manage and Contain Your Total Cost of Ownership (TCO)
Encrypt Your Data for Secure Long-term Retention
Weigh the Environmental Impacts and Minimize Power and Cooling Costs
Simplify Management of the Entire Solution
Order Record Management Policy Download Selected Pages Version History