IT Hiring is on the uptick according to latest IT Salary Survey
Latest IT Salary Survey Released
IT Hiring is on the uptick according to latest IT Salary Survey - Janco's Salary Survey, just released, is good news for IT Professionals. The survey shows that hiring is picking up in some sectors of the IT job market, salaries have stopped falling and for selected positions there has been an increase in compensation. The CEO of Janco, Victor Janulaitis stated, "Our main conclusion from analysis of the data and interviews of CIOs is that for Information Technology the recession has bottomed out for and that hiring of IT professionals will increase in 2011. " Mr. Janulaitis also said, "However there still are a number of companies who are much more cautious and concerned that the recovery will not be strong enough to support increased IT spending. " He added, "Cost reduction is still the rule of the day; however we have seen an increase in the number of part-timers and contractors who are focused on particular critical projects. This is an omen that IT Hiring and salaries will go up in 2011. "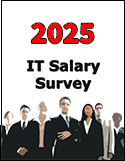 Summary Janco 12 month comparisons show that mean compensation (which includes bonuses) for all IT executive positions in large enterprises surveyed is $140,960 (an increase from $140,267 in 2010) and $123,378 (a slight increase from $123,301 in 2010) in mid-sized enterprises. Overall compensation for all IT Professionals has increased from $77,604 to $77,873; however the study shows that there was a 5% decrease in the number of employees receiving personal performance bonuses while there was 5% increase in those receiving enterprise based performance bonuses. Mr. Janulaitis said, "Bonuses are showing that companies are look for enterprise revenue improvements and want to motivate employees to focus on improving the company's bottom line over and above everything else. "
Updated with the latest IT Job Market statistics
Historic IT Job Market Growth Trend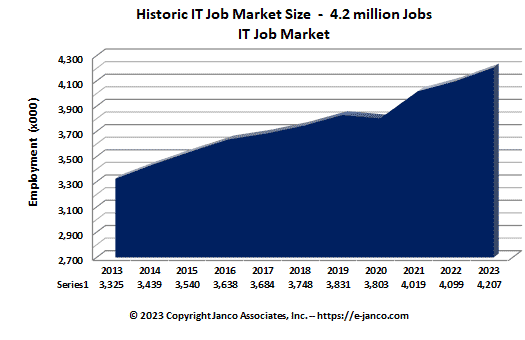 For current analysis of this data, go IT Job Market Size to see the historic job market growth trend data
Data as of September 2023
Janco has captured IT compensation data since 1996 and publishes its IT Salary Survey semi-annually. The IT Salary Survey is based on Janco's IT professionals' compensation database. Compensation benchmark hiring and salary ranges are established for each position surveyed. In analyzing the study data, the upper and lower quartiles are eliminated to determine the benchmark ranges. The benchmark ranges are then used to assess the alignment of a company's actual compensation to the marketplace for each job function. A summary of the most recent salary survey can be downloaded by visiting Janco IT Salary Survey at https://e-janco.com/salary.htm.
Order Salary Survey Download Sample Provide Data
---

NOTE: the table below is updated automatically with the latest IT salaries when a new salary survey is published. That happens every January and June. The historical data is available.
---
Latest Median IT Salaries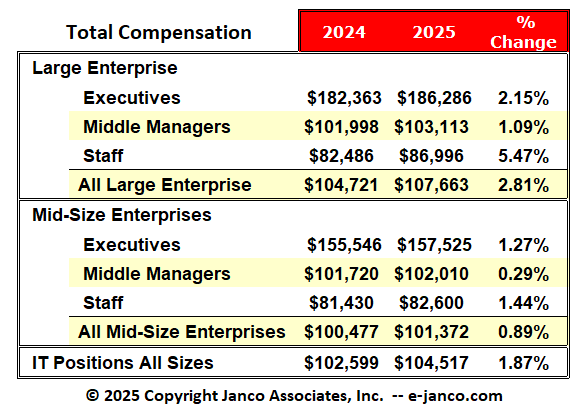 For the latest data go to the current IT Salary Survey
---
Internet and IT Job Descriptions HandiGuide Version Released

Janco Associates has just released its 2011 Internet and IT Job Descriptions HandiGuide. The CEO of eJobDescription.com, a division of Janco Associates, Inc. , Mr. Victor Janulaitis said, 'With the constant advances of technology CIOs and HR management is constantly challenged to keep the position descriptions that are related to IT and the Internet current. With the 2011 version of the HandiGuide they have the world class industry standard definitions of roles and responsibilities at their fingertips.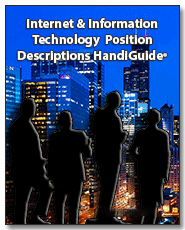 The 2011 Internet and IT Job Description HandiGuide now is over 750 pages in length and contains 270 Job Descriptions that have all been reviewed and modified to comply with all state and federal mandated requirements. New with this version are extensive updates to the Chief Technology Officer job description as well as the addition of full job descriptions
for: Director Media Communication, Cloud Computing Architect ,Enterprise Resource Planning (ERP) Architect, Information Technology Associate (Entry Level with career path
defined), Manager Cloud Applications, Manager Payroll System, and Project Manager - Enterprise Resource Planning (ERP).
All of the Janco's and eJobDescription.com's offerings are delivered electronically. The pdf version of the HandiGuide contains the 243 descriptions as well as: a Job Evaluation Questionnaire; a Position Description Questionnaire to help the reader create their own job descriptions; a job progression matrix (Job Family Classifications) with suggested organization charts; a section on sexual harassment and other key employment issues; best practices for resume screening; and best practices for phone screening.
Simplify Recruiting While Making Sure You Hire the Right Staff

The recession has been a big challenge for HR departments, as key IT professionals worry about working with reduced staff and tenuous job security. But amid that urgent pressure,CIO and IT managers need to make sure their HR strategy is looking long term as well, and to make sure HR, IT, and business unit leaders are driving change together.
It's a good time for CIO and IT managers to pressure HR to have a bigger impact. There's an expanding toolset today for doing interactive performance tracking and getting deeper insight into your company's talent pool, while also wringing more efficiency out of automation. HR and IT teams working together should be able to get results.
Building the IT Staff your company needs to succeed requires offering the right jobs at the right salary levels. Only the IT Hiring Resource Kit provides the industry-standard job descriptions and up-to-date salary data you need to recruit top talent as effectively and efficiently as possible. The salary survey includes a list of the benefits provided by enterprises of all size. Is your company providing the right benefits.
This indispensable resource provides up-to-date salary data gathered through an extensive survey of businesses throughout the United States and Canada, plus polished job descriptions for the 73 IT positions surveyed. This proprietary information will reduce the time it takes to recruit top talent and ensure that you get the right person for each job. Read on. . .
Read on IT Hiring Kit Order IT Hiring Kit