Disaster Recovery Business Continuity and Incident Communication Plan Templates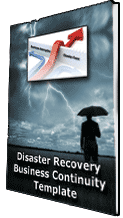 Disaster Recovery Business Continuity and Incident Communication Plan Templates released by Janco - Janco Associates, Inc. announced the release of its Disaster Recovery and Business Continuity Template and a policy and plan for communication with media with its new Incident Communication Plan template. Victor Janulaitis, the CEO of Janco said, "In reviewing the post-business interruption assessments of a number of our clients we found that one area where most enterprise fall short is communication with the media. Over half of the organizations we reviewed had no plan in place for media communications." The CEO added, "Our data shows that when recovery plans work, over 60% of the time they do not communicate that success to the enterprise stakeholders in a timely manner."
In the process of creating DRPs and BCPs for organizations around the globe, Janco has found every department, in every corporation or organization needs a universal, yet comprehensive DRP - BCP to safeguard the use of their computers, all related equipment, and information which support enterprise wide operations in the event of a disaster. The WORD template is over 215 pages and can be used in the creation of a unique Disaster Recovery Plan (DRP) and Business Continuity plan (BCP) for any entity. Janulaitis said, "Over 3,000 enterprises in over 65 countries have selected this template and made it the industry standard."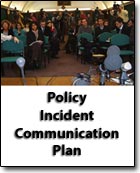 The Incident Communication Plan which was just released includes: an easily modifiable objective and policy statement; guidelines for how to deal with media requests for information, requests for interviews, surprise visits by media; best practices for news conferences; best practices for media relationships; and a full job description for a Director Media Communications.
Read On Order Incident Communication Policy Download Sample
Version 5.7 of the DRP/BCP template has a detail communication strategy and policy included. "The template has checklists and examples of what is needed to get systems and networks back in working order quickly. Janco's work with clients who have suffered fires, earthquakes, floods, tornadoes, hurricanes, volcanic eruptions, and other disasters has been used in creation of this inexpensive template", asserts Janulaitis.
All of Janco's electronic documents are developed and maintained with the goal of having a base-point that enterprises of all sizes can use.