Janco launches a CIO and IT Managers Blog
Consolidation of Janco's IT and Organization Infrastructure support and communication forms in to a single blog
As Janco moves into the social network area with the addition of its new blog at http:// to communication channels.
As an incentive to its subscribers, they will be offered exclusive white papers and special discounts that will not be available to the general public.
---
Top 10 Causes of Business Interruptions
Disasters and events that impact business continuity vary widely in more than duration……
Disaster Recovery and Business Continuity planning is often spurred on by major events like earthquakes, floods, tornadoes, and hurricanes. However it is little disasters that case the most damage and require good plans to be in place. Viruses, hackers, workplace sabotage, machine failures and other related mini-disasters happen frequently, but only a small percentage of companies have developed in advance the kind of recovery and crisis management plans that are necessary for business operations to recover and continue.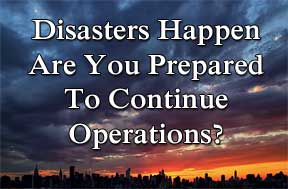 Disasters and events that impact business continuity vary widely in more than duration. As you design your plan, consider the probability of threats that are:
Chronicled - events that have occurred (Power outages, earthquakes, hurricanes)
Human - events likely from carelessness, malicious intent, fatigue, or lack of training
Geographical - events likely as a result of the location of your business (floods, storms, lightning strikes, earthquakes, typhoons, tsunamis)
Localized - events due to system malfunctions (assembly line failures, computer crashes, sprinkler activations, chemical spills)
Planned - scheduled events (software upgrades, system tests, facility moves) that go awry
Janco's own list of top 10 disasters that CIOs and business managers need to plan for are:
Weather related events like floods, tornadoes, hurricanes, forest/brush fires, and sand storms
Facility fires
Water pipe breaks in facility
Fiber or communications line are cut - loss of network
Power failures - Outage or sporadic service
Human error like a redundant systems failure that goes unnoticed and hinders the recovery operation
Earthquake
Security breach hacking and or malicious code
Data corruption and loss - not only from physical device or network failure but also from application and user error
Cascading system failure
Janco believes that a prepared, and well-rehearsed team address the issues associates with a major and minor business interruption much quicker than companies who have no plan and no preparedness.
---
Planning for a Pandemic Takes a New Turn in Texas

As part of the state's emergency response plans, the Governor took specific steps to help prepare Texas for a potential influenza outbreak. With a state the size of Texas, both geographically and in population, it is of critical importance that a response to an outbreak of pandemic flu be efficient and effective.
The threat of pandemic influenza has emerged as an increasing public health threat with devastating consequences. Pandemic influenza is a global outbreak of flu caused by a new influenza virus to which few people have immunity. No one knows when a pandemic might occur, how severe it will be or if it will be caused by avian flu or some other flu virus. Yet Texas public health officials have been proactive in preparing for pandemic flu for several years. One of the biggest challenges is reaching all Texans quickly given the state's geographic expanse. Another challenge is preparing for many different response scenarios based on the unpredictably of the type of virus.