---
NEWS --- Janco Associates Launches CIO & IT Manager Blog

Mixed News for IT as new jobs are created in July
Planning for a Pandemic take a new turn in Texas - See Video
---
Janco launches a CIO and IT Managers Blog
Consolidation of Janco's IT and Organization Infrastructure support and communication forms in to a single blog
As Janco moves into the social network area with the addition of its new blog at http:// to communication channels.
As an incentive to its subscribers, they will be offered exclusive white papers and special discounts that will not be available to the general public.
---
Mixed News With Latest Report From the BLS
Fewer than one in five organizations is looking to hire additional IT staff within the next month - At this rate of improvement IT could regain all of the jobs lost during the 2007-09 recession in the next 12 months…
Mixed News With Latest Report From the BLS - There was a net increase of 20,400 seasonally adjusted IT jobs in Julyaccording to the latest BLS data. There was an improvement in computer system design and related services accounted of 10,400 jobs; 7,000 in telecommunications, 1,900 jobs in Data Processing, hosting and related services; and another 1,100 jobs in other information services. The CEO of Janco Associates, Inc. (e-janco.com), Victor Janulaitis said, "This looks like a marked improvement in the job prospects for IT professionals. There still is an issue with the fall in the percentage of individuals looking for work; however we see more CIOs looking to reduce their expenses by replacing consultants and contractors with full time employees." He added, "This a not a gain in the total number of IT jobs, but it does increase opportunities for IT professionals who are not consultants or contractors."
The IT job market growth trend for IT Professionals is down, See chart below.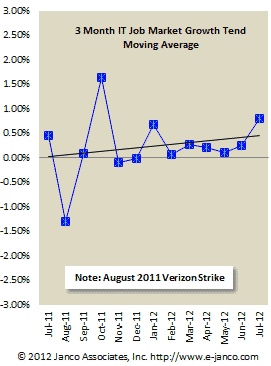 Order Salary Survey Download Sample Provide Data
---
Planning for a Pandemic Takes a New Turn in Texas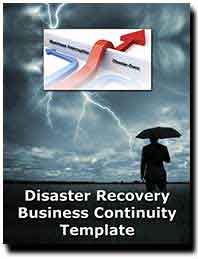 As part of the state's emergency response plans, the Governor took specific steps to help prepare Texas for a potential influenza outbreak. With a state the size of Texas, both geographically and in population, it is of critical importance that a response to an outbreak of pandemic flu be efficient and effective.
The threat of pandemic influenza has emerged as an increasing public health threat with devastating consequences. Pandemic influenza is a global outbreak of flu caused by a new influenza virus to which few people have immunity. No one knows when a pandemic might occur, how severe it will be or if it will be caused by avian flu or some other flu virus. Yet Texas public health officials have been proactive in preparing for pandemic flu for several years. One of the biggest challenges is reaching all Texans quickly given the state's geographic expanse. Another challenge is preparing for many different response scenarios based on the unpredictably of the type of virus.
Order DRP BCP Template Sample DRP BCP Template