Senior management's infrastructure concerns addressed
Senior management's infrastructure concerns addressed - In a recent study Janco identified the top 10 concerns of the of senior managers. Topping the list were security and the IT infrastructure that supports the day-to-day operations of the company.
Janco's Infrastructure Policy bundle is a readily adaptable solution to address these concerns. The framework has been used by enterprises around the globe to to structure the technology function within its operations seamlessly.
Infrastructure Policy Solution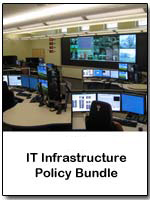 The CIO IT Infrastructure Policy Bundle is provided in MS WORD and PDF formats. The PDF document is over 300 pages long and contains all of the policies listed below. The MS-Word files are each individual files (1 per policy). The policies included are:

Backup and Backup Retention Policy
Blog and Personal Web Site Policy
BYOD Access and Use Policy
Google Glass Policy
Incident Communication Plan Policy
Internet, Email, Social Networking, Mobile Device, and Electronic Communication Policy
Mobile Device Access and Use Policy
Outsourcing Policy
Patch Management Policy
Physical and Virtual Server Security Policy
Record Management, Retention, and Disposition Policy
Sensitive Information Policy
Service Level Agreement Policy
Social Networking Policy
Telecommuting Policy
Text Messaging Sensitive and Confidential Policy
Laptop, PDA and Off-Site Meeting Policy.
Order Infrastructure Policies Download Sample
---
CIO Concern Management Toolkit -- Save Over $1,500
The toolkit contains everything that an IT Department needs in order to better manage the concerns that the CIO has.
The kit is available with and without update subscription service. When you order it with subscription service you save an additional $1,000 plus you will receive at least 1 update and up to 6 updates for each of the components in the kit.
Order CIO Concern Management Kit Order Components Order Update Service