CIO Salaries Percentage Increases lag
VP Technical Services Salaries have increased the most in the past 5 years
CIO Salaries Percentage Increases lag - CIO salaries have gone up only 7.5% (larger enterprises) and 9.6% (mid-sized enterprises) in the past 5 years

Median salaries for CIO in large enterprises have gone up only by $13,601 (7.5%) in the past five years. In the same period, median compensation for VP Technical Services have gone up $27,653 (19.7%) and VP Security has risen $20,602 (14.2%).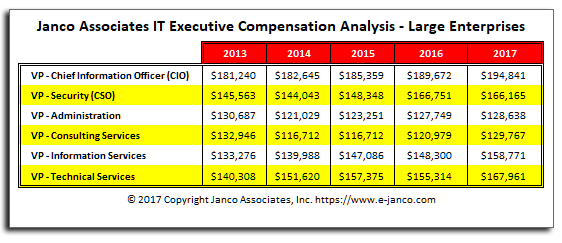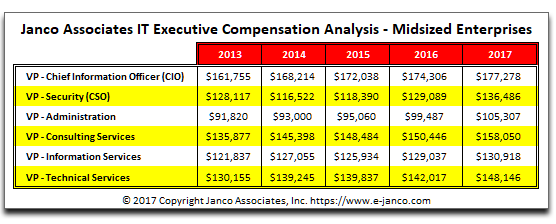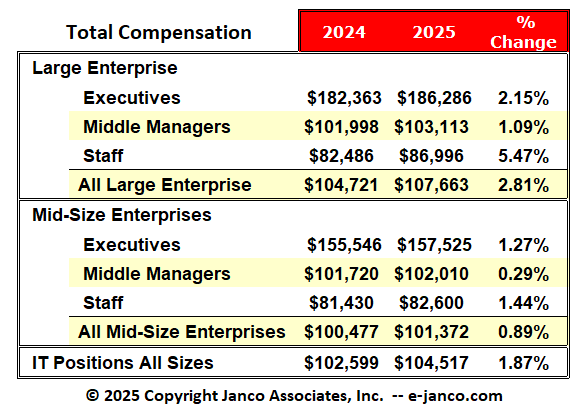 Updated with the latest data
Order Salary Survey Download Sample Provide Data
---
IT Hiring Kit
The must-have toolkit for organizations and managers who are looking to build a quality IT function.
Building an excellent IT staff your company requires offering the right jobs at the right salary levels. Only the IT Hiring Resource Kit provides the industry-standard job descriptions and up-to-date salary data you need to recruit top talent as effectively and efficiently as possible.
Read on IT Hiring Kit Order IT Hiring Kit