IT Salary Survey Released
Median IT Salaries now over $90K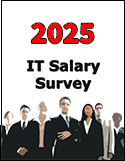 IT Salary Survey Released - For the first time the median IT Salaries for all positions surveyed by Janco Associates have broken the $90K barrier.  With the surge in the DOW and the recent tax legislation, $100K median is not too far in the future.
Major findings include:
Compensation for IT executives fared better in large companies than mid-sized companies.
The greatest increases have been at the middle manager levels in mid-sized companies with an increase of 4.45% - most of which can be attributed to performance bonuses and the hiring of significantly more qualified individuals earlier
Positions in highest demand are associated with security, training, large data center management, big data, distributed/mobile system project management, quality control, BYOD implementation, capacity planning and service level improvement.
Onshore outsourcing and H-1B visa jobs have peaked.
---

NOTE: the table below is updated automatically with the latest IT salaries when a new salary survey is published. That happens every January and June. The historical data is available.
---
Latest Median IT Salaries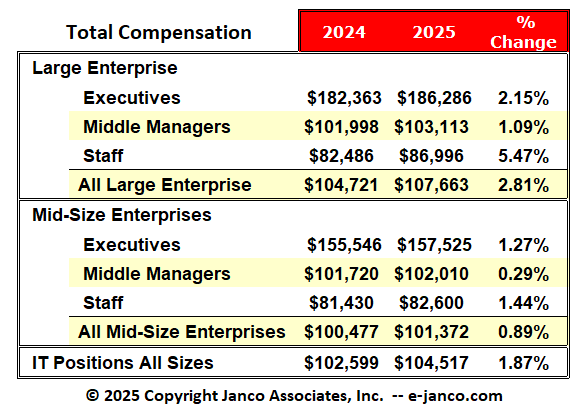 For the latest data go to the current IT Salary Survey
---
Order Salary Survey Download Sample Provide Data
---
IT Hiring Kit
The must-have toolkit for organizations and managers who are looking to build a quality IT function.
Building an excellent IT staff your company requires offering the right jobs at the right salary levels. Only the IT Hiring Resource Kit provides the industry-standard job descriptions and up-to-date salary data you need to recruit top talent as effectively and efficiently as possible.
Read on IT Hiring Kit Order IT Hiring Kit