Salary Survey Shows Top IT Salaries Increased 29% over Last Year
Park City, UT, - Salary Survey Shows Top IT Salaries Increased 29% over Last Year - M. Victor Janulaitis announced today the release of Janco Associates' MIS 2000 Compensation Study. Overall, IT salaries continue to rise, as there are not enough qualified individuals to fill demand. Large increases continue to be the norm for top-level personnel in large and medium sized companies.
Compensation for the top MIS executives was $398,626 for large companies (revenues over $500MM) and $297,752 for medium sized companies (revenues less than $500MM), huge increases comparing with last year's $320,000 and $270,000, respectively. Salary ranges and averages for middle level and staff positions have also grown dramatically during the last year with 21% increases for employees of large companies to a whopping 49% increase for mid-level employees of medium sized firms.
The salary survey draws on data collected throughout the year by extensive internet-based and completed survey forms sent to businesses in Southern California as well as throughout the United States and Canada. In addition, the firm conducts its own survey of surveys and makes adjustments for industry trends prior to publishing of this intensive study. Positions surveyed in the study are fully described in the "Information Technology Position Description HandiGuide™" that is also published by JAI. Reflecting the growing impact of the Internet on all aspects of commerce, the positions of Webmaster and Web Analyst join the surveyed jobs. The survey data reflects MIS salaries in 73 major cities in the United States as well as 28 cities in Canada.
---

NOTE: the table below is updated automatically with the latest IT salaries when a new salary survey is published. That happens every January and June. The historical data is available.
---
Latest Median IT Salaries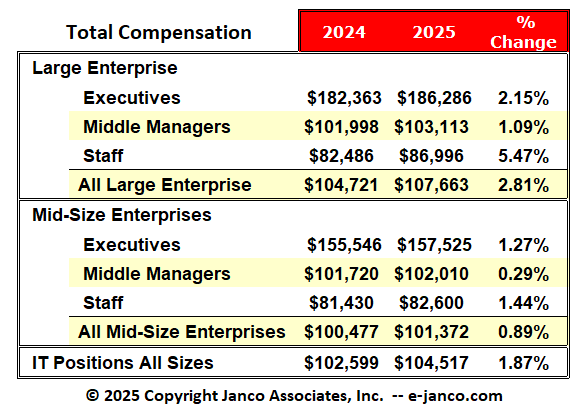 For the latest data go to the current IT Salary Survey
---
The 150-plus page study is available in an electronic version for $99 and a paper version for $395, plus shipping and tax. Attached is a summary of the study. A complimentary copy of the full study is available for members of the media. The firm continually compiles data for future MIS Compensation Studies.
Mr. Janulaitis has been the CEO of a southern California based management consulting since 1982. The firms' clients include numerous Fortune 500 companies. In addition to consulting services, the firm publishes a series of technical guides under the HandiGuide series of titles and a Best of COMDEX winning data reporting and integration tool titled Zinnote™.
Order Salary Survey Download Sample Provide Data