Download this salary survey to see how your pay compares to peers'
Download this salary survey to see how your pay compares to peers' - The "Information Technology Compensation Study," which TR members can download to review, reports both good and bad news regarding IT compensation levels.
The study, from Janco Associates, Inc. , based in Park City, UT, states that for the first year since 1985, there's been an overall decline in the benchmark salary for top tech performers. Most of the decrease is based on reductions in performance bonuses for the most senior positions.
Yet, at the same time, there is a continued increase in the benchmark for certain positions—tech jobs such as disaster recovery coordinators, security experts, and data specialists are seeing compensation spikes due to increased concerns regarding enterprise security and data protection.
The Janco study also identifies a new compensation trend: Consolidation within IT organizations is reducing the number of top-level tech positions, including VPs, directors, and IT managers reporting to the CIO.
Janco Associates, Inc. is a management consulting firm focusing on IT and the strategic application of information technology to gain competitive business advantage. The company has published a biannual information technology compensation survey for over 10 years.
---
Latest Median IT Salaries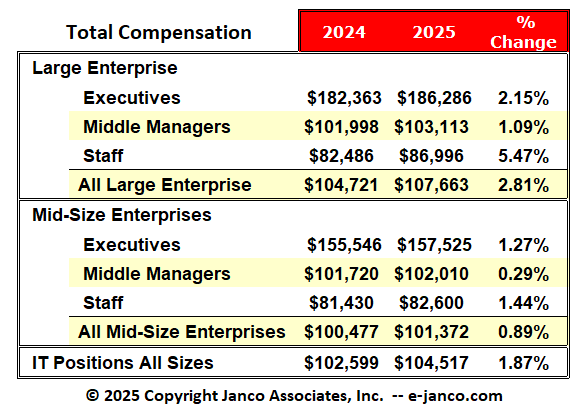 For the latest data go to the current IT Salary Survey
---
Order Salary Survey Download Sample Provide Data