Disaster/security planning templates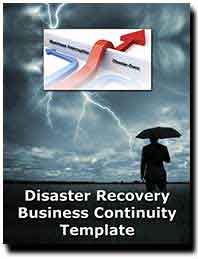 One of the cornerstones of successful disaster recovery and security is planning -- determining what's important and what people and resources can be marshaled to meet specific challenges. Janco, a management consulting firm specializing in IT and based in Park City, Utah, is one of a number of companies that provides disaster recovery planning tools and templates. In fact, the company has developed two planning templates that can greatly simplify a storage professional's work: the Disaster Recovery Template and Security Manual Template.
Victor Janulaitis, CEO, says that he has developed over 300 custom disaster recovery plans for clients (including Merrill Lynch's DRP used to activate its New Jersey facility after 9/11). "Last spring I decided to create a 'template' so that anyone who wanted to would have a place to start," he said.
With that the DRP and Security Guidelines became a reality. "We had our product in place before 9/11 and sales were brisk then -- after 9/11 sales exploded," Janulaitis said.
According to Janco, the Disaster Recovery Plan (DRP) can be used as a template for any enterprise. The plan is 71 pages and includes everything needed to customize it to fit any specific requirement. The electronic document includes written text and examples including business impact analysis, DRP organization responsibilities, recovery strategy and procedures, and plan administration. The Security Manual plan is 178 pages and also includes sample text and examples.
Kelly Keeler, a systems analyst at Martin's Point Health Care in Portland, Maine, said she compared a number of tools available over the Web but settled on the Janco product. She is now using the tool to build an organization-wide DRP that covers more than 20 servers and associated storage devices. She characterizes the product as thorough but flexible.
Order Salary Survey Download Sample Provide Data