Index
Back
Next
Up-Tick In Demand for IT Managers
Park City, UT - Up-Tick In Demand for IT Managers - Victor Janulaitis, CEO of Janco Associates (e-janco.com) today announced results of its mid-year 2004 IT Salary Survey and Janco's 1996 to 2004 Comparative IT Salary Survey.
---

(note - Charts have been updated with the latest data. If you want to see the original charts please contact support at e-janco.com. Text is the original text. Specify which charts and dates you desire and they are available for free to paid subscribers of the CIO - IT Manager Newsletter)

---
Current IT Hiring Plans - IT Job Hiring Stalls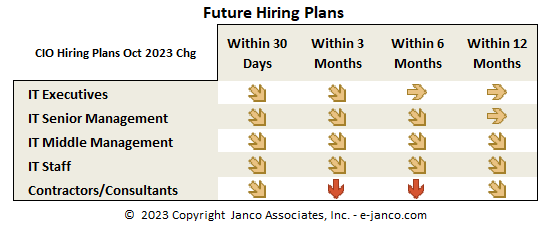 The treat of an economic downturn, inflation, high energy cost, and the continued wars will continue dampen hiring for IT pros over the the next few quarters.
In Janco's January Compensation Survey data showed an increase in compensation for CIO's. In the mid-year update there has been an increase in the compensation to the CIO's direct reports. Demand and compensation for IT professionals is now starting to increase in unison. Mr. Janulaitis said, "The greatest demand for IT professionals is in internet followed by re-hiring of infrastructure positions that were eliminated in the recession. "
The mean total compensation for all positions surveyed has remained the same for the last six months. In mid-sized enterprises the mean total compensation has moved down to $75,345 from $76,003 in the last quarter of 2003. However in large enterprises the median compensation has moved up from $79,338 in December 2003 to $79,753 in June 2004.
Organizations that had eliminated training, planning and infrastructure positions, such as change control, are in the process of limited re-staffing in those areas.
Demand is high for direct reports to the CIO and in the internet and network areas of e-commerce, voice/wireless communication, object programming, data security and data warehousing as enterprisers begin to prepare for the next wave of new activity.
Voice/wireless communication and security positions have been upgraded within many enterprises. Where these positions were lower to mid level positions before 2000, in 2004 and beyond these positions are now mid level to being direct reports to the CIO. .
Updated with the latest IT Job Market statistics
Historic IT Job Market Growth Stops in CY 2023


For current analysis of this data, go IT Job Market Size to see the historic job market growth trend data
Data as of the end of October 2023
Janco Associates, Inc. (e-janco.com) is an international consulting organization based out of Park City, Utah. It offers pre-written templates for Disaster Recovery Programs and Safety Programs, Job Descriptions, IT Salary Data, HandiGuides™ for Metrics and Internet Policies and Procedures.
Order Salary Survey Download Sample Provide Data