Salary survey reveals top-level IT salaries may rise some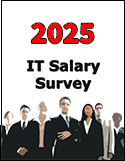 Salary survey reveals top-level IT salaries may rise some - Top IT executives may see a slight salary increase in 2004 according to the management consulting firm Janco Associates. In their newest report, published in January 2004, Janco asserts that median salaries will (and in some cases have) increased in 2004. It also predicts that downsizing trends may be over with many firms ramping up with new staff to meet demands of e-commerce and wireless initiatives.

Check out the report to see how your salary compares to the CIO benchmark. Also, you can see how the salaries of your staff compare to the marketplace so you can remain competitive, minimizing the risk of losing employees to other organizations. You can download a sample of the salary report by clicking here.

About the report
The Janco Total Benchmark Compensation Range is split into three groups—top-level positions, mid-level positions, and staff positions. Total compensation includes estimated bonus amounts, "perks," and the fair value of supplemental compensation, such as additional time off, education cost reimbursements, special business trips, car allowances, stock options, etc.

Two hundred and five large corporations (companies whose gross revenue is equal to or greater than $500 MM) responded to the survey on which the report is based, while 301 midsize to small corporations (those whose gross revenues are less than $500 MM) responded. Some of the trends the report bears out are as follows:
Median salaries to go up slightly
At the start of 2003, there was a continued decrease in both salaries and demand for top-level IT positions in large companies, with a significant leveling off of salary increases at all positions. However, Janco forecasts that this will start to change in 2004 and that compensation for top-level positions will start to increase. Medium to small organizations are paying more for fewer employees. Median salaries for IT folks in these companies will be higher than last year's but new hires are a bit lower than last year
Wireless and e-commerce pros will be in demand
The report states that in large corporations, there is a high demand for skills in disaster recovery, security, Internet development, programming, and networking. In midsize corporations, positions associated with e-commerce and wireless initiatives are now in more demand. This includes Webmasters, voice and wireless communication experts, object programmers, and data security and data warehousing experts.
Order Salary Survey Download Sample Provide Data
---

NOTE: the table below is updated automatically with the latest IT salaries when a new salary survey is published. That happens every January and June. The historical data is available.
---
Latest Median IT Salaries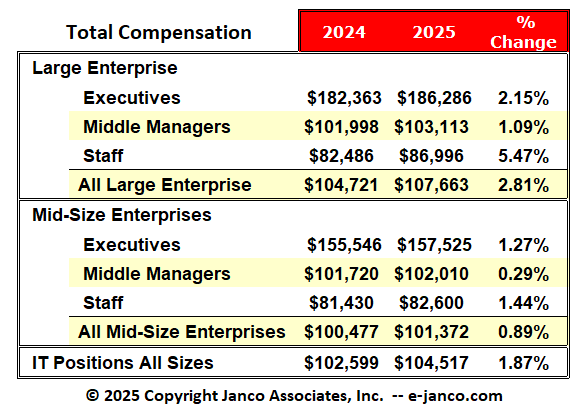 For the latest data go to the current IT Salary Survey
---