IT Salary Survey: Janco Associates, Inc.
Janco Associates recently announced results of its 2005 IT Salary Survey, which was completed between June 2004 and January 2005. Janco's January 2005 Compensation Survey for the United States and Canadian metropolitan areas utilized data from Janco Associates Compensation Database for IT professionals and contains compensation information on several different firms. Job classifications took into account similarities in job function and responsibilities, and benchmark ranges were established for each job position. In addition, analysis took into account various metropolitan areas.
---

NOTE: the table below is updated automatically with the latest IT salaries when a new salary survey is published. That happens every January and June. The historical data is available.
---
Latest Median IT Salaries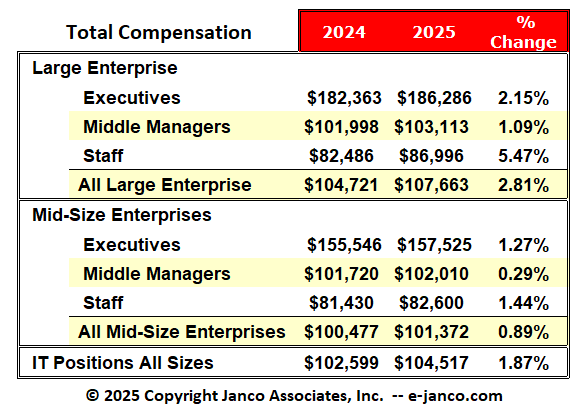 For the latest data go to the current IT Salary Survey
---
In general, the study showed there was a small decrease in overall compensation and demand for IT professionals. On the positive side, there was an increase in compensation for CIOs due to year-end bonuses.
Victor Janulaitis, CEO of Janco, said, "The return of year-end bonuses is a positive sign. It has been several years since we have seen a significant number of our participating enterprises providing as many bonuses as they have this year. " In addition, he said "The increase in bonuses for CIOs is a leading indicator of an improved situation for long-term demand and pay for all IT professionals.
The increase in bonuses is in line with the marketplace over the past few years. According to past research by Janco, there was a decrease in salaries and demand for top-level IT positions at large companies in 2003, and a "leveling off" of salary increases at all levels. However, in 2004, researchers found that the downward trend stopped and compensation began increasing, "at least for the top positions. "
Currently, there is a high demand for disaster recovery, security, programming and networking professionals, and median compensation levels are increasing.
According to a study summary, available on the Janco Web site, "In comparing January 2004 to January 2005, salaries for IT executive management in large enterprises have fallen for CIOs, while they have increased slightly for the CIO's direct reports. "
Other key survey findings include:
The mean total compensation for all positions surveyed has edged down slightly (-0.75 percent) for the last six months. In mid-sized enterprises the mean total compensation has edged down to $75,406 from $76,259 in the last quarter of 2004. At the same time in large enterprises the median compensation has also declined slightly from $80,605 in June 2004 to $80,276 (-0.41 percent) in January 2005.
As a result of year end bonuses, the mean total compensation for chief information officers (CIOs) in large enterprises increased by 4.16 percent from $162,827 to $169,601 and in mid-sized enterprises by 1.35 percent from $169,498 to $171,791.
The trend to outsource continues and some enterprises continue to reduce costs by eliminating IT infrastructure positions such as training and planning.
The study showed that, in addition to "traditional" IT positions, voice and wireless communication and security positions have been upgraded within many companies. Since 2003, these positions have become mid-level to senior-level positions, as opposed to the lower to mid-level positions they were prior to 2000.
 In response to the "next wave" of wireless technology, according to the study, there is a high demand in the Internet and networking areas of e-commerce, the aforementioned voice and wireless communication, object programming and data warehousing.
 The overall economy has played a role in the dynamic of IT positions. For example, according to the study, individuals who had planned on retiring in 2003 and 2004 and have not recovered from their retirement portfolio's shrinkage are continuing to defer retirement. In the interviews Janco conducted, it was discovered that a significant number of these professional have "focused on staying employed versus looking for increases in compensation. "
Percentage of change in mean salary - Top-level IT executives in LARGE organizations
VP - Chief Information Officer
+4.16%
VP - Security (CSO)
0%
VP - Administration
+7.32%
VP - Consulting Services
-0.81%
VP - Information Services
+7.62%
VP - Technical Services
+5.13%
Percentage of change in mean salary - Top-level IT executives in MID-SIZED organizations
VP - Chief Information Officer
+1.35
VP - Security (CSO)
0%
VP - Administration
-3.50%
VP - Consulting Services
-0.28%
VP - Information Services
-1.15%
VP - Technical Services
-1.68%
Percentage of change in mean salary - Management in LARGE organizations
Manager - Computer Operations
+1.04%
Manager - Data Communications
-0.35%
Manager - Data Warehouse
+5.28%
Manager - Database
+1.22%
Manager - Internet Systems
+0.16%
Manager - Operating Systems Production
+2.40%
Manager - Network Services
+4.13%
Manager - Production Services
-8.98%
Manager - Security and Workstations
-1.55%
Manager - Systems and Programming
-3.06%
Manager - Technical Services
+0.38%
Manager - Training and Documentation
-4.78%
Percentage of change in mean salary - Management in MID-SIZED organizations
Manager - Computer Operations
+1.36%
Manager - Data Communications
-3.13%
Manager - Data Warehouse
+1.34%
Manager - Database
-1.46%
Manager - Internet Systems
-1.19%
Manager - Operating Systems Production
+0.93%
Manager - Network Services
+1.91%
Manager - Production Services
+4.62%
Manager - Security and Workstations
-5.11%
Manager - Systems and Programming
-1.92%
Manager - Technical Services
-0.23%
Manager - Training and Documentation
+0.89%
The positions descriptions used in the study were adapted from the Information Systems Position Description HandiGuide, published, Inc
Order Browser Market Share Study Download Selected Pages