How to Guide for Cloud Processing and Outsourcing

ISO Compliant Practical Cloud and Outsourcing Guide
"Practical Cloud Outsourcing How to Guide has EVERYTHING that is needed to select an service provider, enter into an agreement, and manage the relationship," says a CIO of a Fortune 100 company.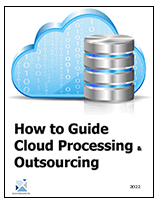 How to Guide for Cloud Processing and Outsourcing - Outsourcing is never a trivial undertaking. It involves a myriad of tasks, and for optimum benefit requires sound planning and excellent management. There are always potential problems, some of which can be serious if not addressed at the outset.
If you are considering outsourcing part of your business' operations, then you need to decide if outsourcing will be right for your business over the long term and if it fits into your company's strategic plan. This outsourcing template is designed to guide your through the decision process and around the definition of what to outsource, presenting advantages, disadvantages and providing tools such as a starting point for the outsourcing contract.
The need to lower cost, increase efficiency and conserve cash has increased the motivation of companies to turn to outsourcing and increased the appeal of alternative delivery models. The disruptive shifts in new demand and supply patterns drives changes for how IT services are bought and from whom. This Outsourcing Guide is your road map in the process.

The Practical Outsourcing Template includes a Sample Outsourcing Contract along with a sample Outsourcing SLA,due diligence questions, and other tools to facilitate the outsourcing process. The Practical Outsourcing Template includes Janco's exclusive Outsourcing Business and IT Impact Questionnaire.
Order Outsourcing Template Download Selected Outsourcing Pages Version History
Practical Template - How to Guide for Cloud Processing and Outsourcing
This HOW TO Guide is delivered electronically in WORD and/or PDF format. Included is a 3 page Job Description for the Manager Outsourcing. Sarbanes-Oxley issues addressed directly. Included in this Guide is an ISO 27001 and ISO 27002 audit program.
The How to Guide for Cloud Processing and Outsourcing and the Businesses and IT Impact Questionnaire are over 140 packed pages and include everything needed to plan for, negotiate, and manage an outsourcing process within an enterprise. The electronic document includes:
Outsourcing Management Overview of Outsourcing, SLAs and responsibilities
Outsourcing Policy that can be used to determine when outsourcing is an option
Outsourcing Approval Process which can be used in approving an outsourcing agreement. Includes a process flow chart on steps to a successful outsourcing agreement
Sample Outsourcing SLA Includes several sample service level agreements
Outsourcing SLA Metrics Definition of over 150 metrics presented in 18 tables that can be used to manage an outsourcing vendor
Outline for Outsourcing Contract Negotiation  Over 17 pages which issues to be addressed including services to be provided, service level requirements, term of the agreement, enterprise's facilities, enterprise's equipment (owned/leased), intellectual property, third party service providers, IT application project (current / future), responsibilities, training and conversion to mention a few
Outsourcing Base Case for Development Detail listing of factors to include
Mutual Non-Disclosure Template that can be used to create an enterprise's own document for use with outsourcing vendors.
Job Description Outsourcing Manager (3 pages)
Outsourcing Business and IT Impact Questionnaire - Inventory and assess all application - addresses Sarbanes-Oxley Compliance issues.
ISO 27001 & 27002 Compliant Security Process Audit Checklist
HIPAA Audit Program Guide
Outsourcing by Industry click on image to see full chart
Order Outsourcing Template Download Selected Outsourcing Pages
When CEOs and executive management broach the subject of outsourcing, CIOs need to avoid making critical decisions in a state of crisis or panic. Outsourcing decisions made in haste can be simplistic and may adversely impact the ability to deliver real business advantage.
CIOs should start their sourcing endeavor by building a solid sourcing strategy that focuses on creating short and long term value. This strategy should be aligned with the organization's sourcing management maturity and include business value scenarios, open options and a road map of value creation with a time line of expected results.
CIOs must take a long-term view of the developing global presence of countries that can provide high-quality resources at the right price point. If your geographic presence is diverse, seek providers that are not exclusively focused on single country, so that you can mitigate risks (such as geopolitical instability) and also take advantage of the benefits of alternative countries, which may offer opportunities close to your own growth markets.
CIOs should actively monitor the market to determine the best combination of software and IT services and service provider options to meet their requirements and specify their appetite for risk.
These are some of the issues that the Practical Outsourcing Template addresses. The Practical Outsourcing Guide is delivered as an electronic document which is easy to modify.
Order Outsourcing Template Download Selected Outsourcing Pages