HP CIO has Superman Role to play
HP CIO has Superman Role to play - New Hewlett-Packard Co. CIO Randy Mott scored an estimated $15 million pay package, but the former Dell executive will arrive at HP just as massive layoffs and restructuring add huge pressures to the job.
According to regulatory filings HP made with the U.S. Securities and Exchange Commission, Mott will earn a base salary of $690,000 per year and agreed to a signing bonus of $2.2 million, which replaces benefits he forfeited by leaving Dell.
Additional payments, ranging from bonuses to stock options to relocation allowances, add up to a package that could pay Mott as much as $15.3 million.
Several industry analysts agreed that Mott's compensation package placed on the high end of the expected range for companies the size of HP.
"It's a package for a guy who's moving into a difficult situation," said Victor Janulaitis, CEO of Janco Associates, a Park City, Utah-based management consulting firm. "Here's a company in turmoil, they know they're going to lay a bunch of people off, they need someone to turn around the IT department and help -- but if you're really successful you're going to be really rich at the end of five years. "
HP's restructuring, which will eliminate 14,500 jobs in an attempt to improve its Wall Street performance, was announced just days after Mott's hiring.
"With the animosity he will face. . .more than14,000 people are being laid off , and they're thinking 'We're being laid off and they're paying this guy millions'. He's almost going to have to get into the phone booth and become Superman instantly," Janulaitis said. "But when they gave him his job offer they knew what was happening and when he got his job offer he knew what was happening. "
Mott's contract includes 285,000 shares of restricted stock that will vest at 20% per year over five years. Based on Friday's closing price of $24.94 for HP stock, those shares are worth $7.1 million. He also receives "targeted long-term performance cash of $7 million for the 2005-2008 performance cycle, of which $5 million is guaranteed," the filing said.
---

NOTE: the table below is updated automatically with the latest IT salaries when a new salary survey is published. That happens every January and June. The historical data is available.
---
Latest Median IT Salaries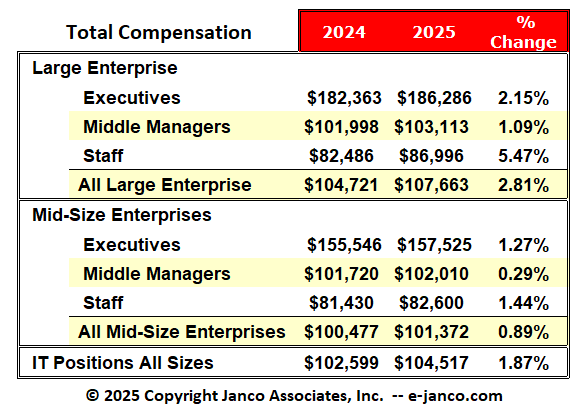 For the latest data go to the current IT Salary Survey
---
Mott received the option to buy 500,000 shares of HP common stock "and a targeted short-term bonus opportunity of 100% of base salary guaranteed at target for the rest of fiscal 2005 and fiscal 2006," according to the filing.
Mott, 49, will receive relocation benefits, including a relocation allowance of $1 million, and is eligible to participate in the Palo Alto, Calif. -based HP employee benefit programs.
Dan Gingras, a partner with Tatum Partners' technology leadership practice, was not surprised at Mott's compensation. The average CIO salary, even at large companies, is "nowhere near" Mott's package -- more like $200,000 to $300,000, Gingras said. However, "I don't think it's inappropriate," for Mott to receive the package he did, Gingras said.
"Clearly, CIOs deliver significant value to organizations," he said, "like lowering cost, improving customer focus and differentiating their company in the marketplace. "
HP has also agreed to indemnify Mott against Dell's claims as a result of his job switch, and pay resulting legal fees. There was widespread reaction in the CIO community last week to Mott's move, viewed as victory for HP. Mott made a name for himself during his 22 years at Wal-mart, and the last five at Dell, running supply chain and inventory management systems at two companies with reputations for efficiency and cost savings. He will report directly to HP CEO Mark Hurd.
Order Salary Survey Download Sample Provide Data