Millionaire CIOs no longer are a rarity
CIOs rank among top paid execs at 47 Fortune 1000 companies
Millionaire CIOs no longer are a rarity - We in technology have gotten pretty good at assessing the financial value of projects, but not so much at figuring out what a CIO is worth. Or, if not worth, at least what to pay him. Or her.
Unlike a CEO, whose compensation rides mainly on measures of the company's financial performance, a typical CIO takes home a pay package less dependent on metrics such as share price or return on equity. Generally, it's a mix of base salary and, for hitting soft and hard goals, bonuses. Sometimes there are shares of stock.
That's most CIOs. Then there are the heavy hitters, the CIO elite who set corporate strategy alongside the CEO, CFO and other top execs—and get paid like them.
---

NOTE: the table below is updated automatically with the latest IT salaries when a new salary survey is published. That happens every January and June. The historical data is available.
---
Latest Median IT Salaries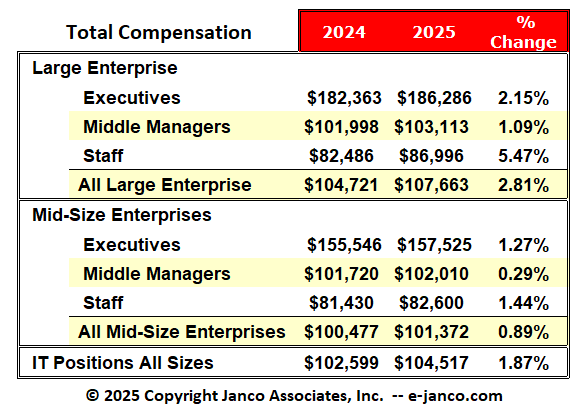 For the latest data go to the current IT Salary Survey
---
---

Top Paid CIOs & CTOs - Latest Data
---
Half or more of the total pay for these CIOs is tied to long-term incentive plans, involving measures of the company's performance over time, says Vincent Milich, director of IT effectiveness at Hay Group, a consulting firm. "By hewing to performance measures that are long-term and linked with business success, IT leaders align themselves with the CEO and the enterprise, and change the impression that they're a cost center and staff job," he says.
With so much at stake, these high-powered CIOs know that to be successful, they need trustworthy people in key positions, says Victor Janulaitis, principal at the compensation consulting firm Janco. CIOs at this level commonly bring an entourage of two or three managers with them who "understand what they say, how they say it and what they mean. "
So who are this year's top-tier technology leaders and what do they make? Every year, public companies must file proxy statements with the Securities and Exchange Commission (SEC) to show what their top five highest-paid executives earn in salary, bonuses, perks and incentive pay such as stock and options awards. We studied the filings of the 1,000 biggest U.S. companies to see what compensation looks like for CIOs ranked and rewarded highly enough at their companies to be included. Not many make the cut. This year, 47 top technology executives were listed at the 1,000 companies. That's down slightly from last year's 52, but about the same overall count since 2001.
Clearly, these companies—especially in financial services, manufacturing and retail—value their technology leaders. According to the latest SEC filings, which show 2007 compensation, our 47 superstars together earned $112,651,463. That's down 18 percent from the $137 million earned for 2006. Still, at $435,200, the average salary (excluding bonuses and other compensation) for this group far out paces average salaries for CIOs generally. In our latest "State of the CIO" survey, CIOs at companies of $1 billion or more in revenue reported an average salary of $344,400.
Demand has declined for CIOs as their average tenure increases. And in this poor economy, companies are reluctant to assume the risk of replacing their top technology leaders, Janulaitis says. "Organizations are in a holding pattern in IT right now," he says.
Most of the fat payouts in 2007—77 percent—came not from salaries or bonuses but from the innocuous sounding "Other" category.
In the Money
Who Made What: Some of the Top-Paid Fortune 1000 CIOs of 2007
Technology Executive
Company / Industry
Total 2007 Compensation*
Salary
1. Barbara Desoer


Global Technology & Operations Executive

Bank of America
Financial Services
$10,532,513
$800,000
2. Glen Salow


EVP Technology & Operations

Ameriprise Financial
Financial Services
$7,029,188
$709,6780
3. Robert Carter


EVP, CIO

FedEx
Services
$5,461,269
$510,000
4. Tim Shack


EVP, CIO

PNC Financial Services Group
Financial Services
$4,896,181
$475,000
5. Mark Boxer


President & CEO Operations, Technology, Government Services Business Unit, EVP

Wellpoint
Health Care
$4,878,008
$693,654
6. Bob Willett


CEO Best Buy International, CIO

Best Buy
Retail
$4,677,735
$685,577
7. Dave Kepler


EVP, Chief Sustainability Officer, CIO & Corporate Director of Shared Services

Dow Chemical
Manufacturing
$4,672,827
$562,310
8. Randy Darcy


EVP Worldwide Operations & Technology, CTO

General Mills
Manufacturing
$4,449,958
$500,000
9. Bob DeRodes


EVP, CIO

HomeDepot
Retail
$4,296,143
$774,788
10. Larry Kittelberger


SVP Technology & Operations

Honeywell International
Manufacturing
$4,075,648
$606,250
SOURCE: Company proxy statements and 10-K filings. *Includes bonus, stock, options, incentive pay, pension contributions and other compensation
Order Salary Survey Download Sample Provide Data