Tech's six-figure salaries are shrinking

IT managers at midsize firms take the biggest hit
Computerworld - The salaries of IT managers are retreating, and those who are most affected by the trend are managers running technology operations at midsize companies with less than $500 million in annual revenue, according to a semi-annual study from Janco Associates Inc.
From January 2007 to this month, the median compensation, including bonuses, for a CIO at a midlevel company with less than $500 million in annual revenue fell from $171,755 to $162,937, a decline of 5.13%. In the same period, chief security officer salaries moved from $148,117 to $143,284, a 3.26% decline. IT planning directors took the biggest hit, falling from $115,434 to $97,588, or 15.46%.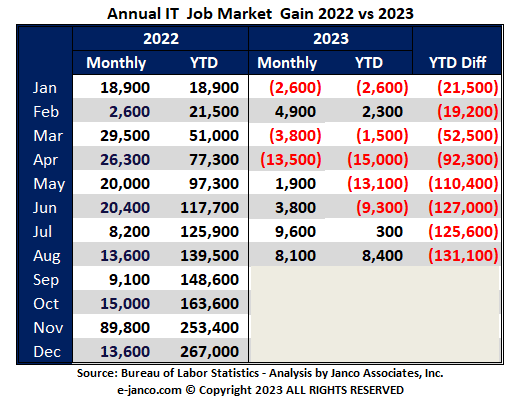 Latest YTD IT job market growth as of September 2023
Janco's semi-annual survey tracks salary and benefits changes at more than 200 companies.
Salary declines for IT executives at larger companies weren't as steep as the cuts at midsize firms. Over the same two-and-half-year period, compensation for those managers fell between 1% and 6%. For instance, the median CIO salary went from $174,979 to $172,505, a decline of nearly 1.5%.
Most of the compensation decline has been in the last 18 months, Janco reported. In that period, a number of companies have announced staff salary reductions, including Hewlett-Packard Co.
"There is now a surplus of seasoned IT professionals available," wrote the Park City, Utah-based IT consulting firm in its report. In particular, it reported that more than 200 IT professionals in the New York area, who earned well over six figures, are looking for work because of mergers, bankruptcies and layoffs. Some IT managers are also putting off retirement, and others who previously retired are now searching for work again.
Overall, IT employment has declined 3.5% since May 2008, according to the TechServe Alliance, formerly the National Association of Computer Consultant Businesses. In November 2008, IT employment peaked at 4 million jobs, but that figure had dropped to 3.85 million as of last month.
Order Salary Survey Download Sample Provide Data
---
The positions that show an increased demand tend to have significantly higher offering salaries. This in turn, inflates the level of compensation for individuals who remain in those existing positions.
Bright Spots in Job Market - Project Managers
The one Project Manager type that has been impacted the most by the economy is Network Technical Services. That is the area where many enterprises (Mid-sized Enterprises in particular) have made cuts.
Currently the Mid-Atlantic market is toughest place to find a job.
Fringe Benefits 2009
Order Salary Survey Download Sample Provide Data