Tech Titans and Media Giant Doomed Alike
Tech Titans and Media Giant Doomed Alike - Both tech titans and media giants are gloomy these days, though for different reasons.
The truth is that media companies' future have forever changed: the world is no longer an analog one and the shrinking media landscape that comes with the digital reality makes it hard for media companies to maintain their market capitalizations and revenues of days gone by. One industry - print newspapers - is essentially decimated and will never be the same. But across the board, things don't look better for TV, either.
The global recession, shrinking advertising sales and fears that the Internet could render big media empires obsolete provide an ominous backdrop for executives at this week's Sun Valley conference.

Herb Allen's boutique investment bank Allen & Co has organized this retreat in the affluent mountain resort town in south-central Idaho every summer for 27 years, inviting guests such as Rupert Murdoch, Sumner Redstone and Barry Diller.

But never before have the media elite been harder pressed to find ways to survive and grow, whether through acquisitions or alliances that they forge over hikes, horseback rides and after-dinner drinks at this historical meeting ground for media and technology deal makers.

"People in the traditional media world are terrified," said Ken Auletta, a New Yorker magazine media writer and author of several books about the media industry, who will chair a panel on new media at this week's conference.

"They're in the analog world, and the world is becoming digital," he said. "They're insecure about what's going to happen to their businesses. "
Read more about media malaise.
Yet tech titans don't fare much better because the days of explosive growth, revenue growth and massive Price to Revenue and Price to Earnings multiples are gone. More on tech troubles below, from Mid Year 2009 Salary Survey, eJobdescription.com (a division of Janco Associates)
Updated with the latest IT Job Market statistics
Historic IT Job Market Growth Trend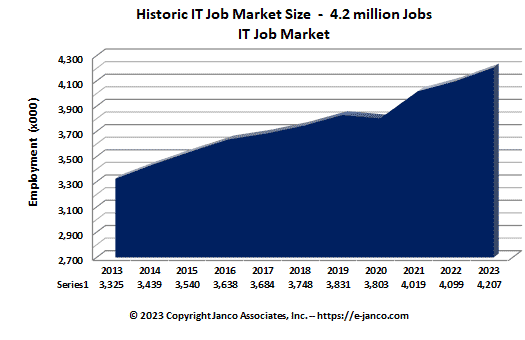 For current analysis of this data, go IT Job Market Size to see the historic job market growth trend data
Data as of September 2023
Many companies have instituted hiring and spending freezes in addition to laying off staff. This has been augmented by extensive outsourcing, bonus reductions, and elimination of IT contractors - which has decreased the demand for IT professionals and in some cases lowered wages, with higher priced positions being eliminated.
Layoffs have focused on middle management and IT support staff.
Many mid-sized enterprises have stopped hiring all together.
There are more than 200 IT professionals in the Metro New York area who earned well into the six figures who are looking for work due to mergers, bankruptcies, and layoffs.
Companies are continuing to reduce the benefits provided to IT professionals. Though benefits such as health care are available, IT professionals are paying a greater portion of that cost.
Flexible hours and work schedules are not as available as they were before the recent economic conditions changed.
With outsourcing, lower bonuses, and the recent layoffs, there has been a slight decrease in the mean compensation paid to IT professionals. In addition, with the fall in the Janco Benchmark, it shows that hiring "new staff" has significantly declined.
There is a surplus of seasoned IT professionals available. For the second time in less than ten years, retirements are being put off because of the downturn in the stock market and the resultant reduction in savings available to support IT professionals as they retire. Added to this is an influx of retirees who are looking to get back into the job market due to the massive reduction in their investment portfolio.
Steve Ballmer's right that the world economy have been reset. I don't think anyone, including the administration, here's what vice president Joe Biden said today:
"We misread how bad the economy was, but we are now only about 120 days into the recovery package," he said. "The truth of the matter was, no one anticipated, no one expected that that recovery package would in fact be in a position at this point of having to distribute the bulk of money. "
That can't be reassuring.
Currently the Mid-Atlantic market is toughest place to find a job
Fringe Benefits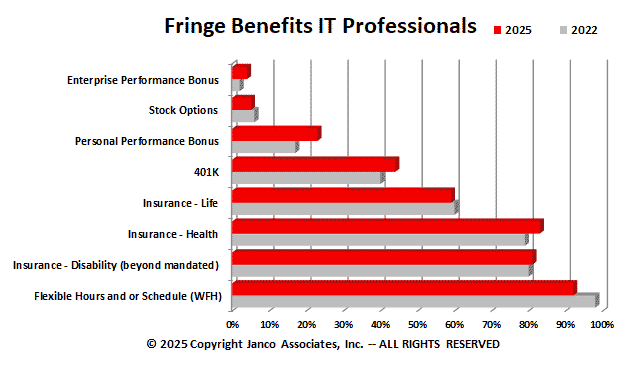 Order Salary Survey Download Sample Provide Data