CIOs Confident Hiring - Fall in IT Salaries Arrested - IT Job Market Leveling Off
Recession hit IT professionals hard - the worst may be over
Park City, UT - Fall in IT Salaries Arrested - IT Job Market Leveling Off - Janco released its 2010 IT Salary Survey, which shows that overall pay has flattened out and that some hiring demand has appeared for IT professionals. The CEO of Janco, Victor Janulaitis stated, "The economic climate is still driven with a cost cutting mindset, business closures, and extensive outsourcing. However the worst seems to be over as salaries for IT professionals are no longer falling. " The CEO added, "…many 'baby-boomers' who had planned on retiring in the next few years are not leaving the job market frustrating middle aged workers who want to advance. "
Order Salary Survey Download Sample Provide Data
Base compensation has shown a slight increase; however the study shows that there was a 13% decrease in the number of employees receiving personal performance bonuses and an 11% decrease in those receiving enterprise based performance bonuses. The CEO of Janco said, "Bonuses are trailing indicators and should return as soon as the recovery takes hold. "
Janco found the factors holding compensation flat and dampening hiring demand are: companies continue to reduce benefits provided to all employees including IT professionals; many companies have instituted hiring and spending freezes in addition to laying-off; and outsourcing has been focused on management and support staff where the bulk of compensation expenses are incurred.
Janco has captured IT compensation data since 1996 and publishes its IT Salary Survey semiannually. The IT Salary Survey is based on Janco's IT professionals' compensation database. Compensation benchmark hiring and salary ranges are established for each position surveyed. In analyzing the study data, the upper and lower quartiles are eliminated to determine the benchmark ranges. The benchmark ranges are then used to assess the alignment of a company's actual compensation to the marketplace for each job function.
---

NOTE: the table below is updated automatically with the latest IT salaries when a new salary survey is published. That happens every January and June. The historical data is available.
---
Latest Median IT Salaries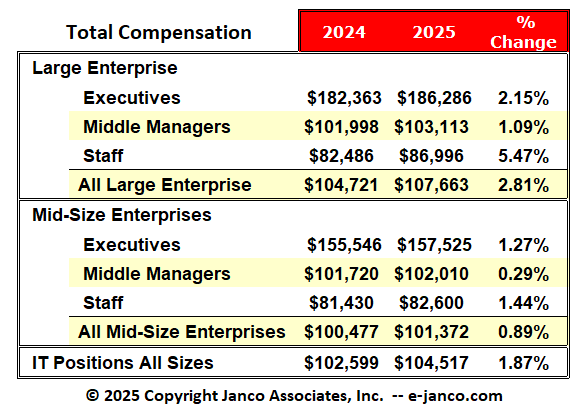 For the latest data go to the current IT Salary Survey
---
(added July 2018)
With the increase in demand for IT professionals across the board there has be a significant increase in compensation as showed by the latest data. We see this trend as continuing over the next several quarters.
Read on Salary Survey Order Salary Survey Download Summary