IT Job Losses Signal Double Dip Has Started
With Verizon strike 43,200 jobs were lost in the IT sector according to BLS data analyzed by Janco
IT Job Losses Signal Double Dip Has Started - The BLS report shows a major loss of IT-related jobs in August (43,200) offsetting any gains in the prior 3 months. As a result of these job losses, total IT employment has only risen only .5% in the last 12 months. The CEO of Janco Associates, Inc. (e-janco.com), Mr. Victor Janulaitis said, "We have seen a significant softening in employment as companies have put the brakes on hiring. When the stock market fell over 500 points, many CIOs were told to hold off any hiring and capital expenditures that were not absolutely necessary. " He added, "With the planning cycles for 2012 in full swing at many companies, Janco is afraid that any new hiring of IT professionals may be put off until the 3rd and 4th quarters of 2012. Not a good sign for anyone. However, there is a bright side as there still is some job growth in the computer system design and related services. "
IT hiring has stopped
Prior to August there had been an up-trend in the number of individuals employed in the IT job sector. With the Verizon strike and drop in the stock market In August, there was a loss in telecommunications jobs (48,200) and data processing hosting and related services jobs (400) that could not be offset by the increase in other information services (1,000) and computer systems design and related services (7,100). The BLS data reflects the Verizon strike, in addition Janco is seeing a reduction in future hiring which is due to lower consumer confidence and a further slowing of the economy.
The CEO of Janco said, "The overall implication with the loss of these jobs is the IT job market may be starting a double dip in employment. Janco estimates that positive job growth in these sectors will not be seen until late in 2012. "
Hiring Trends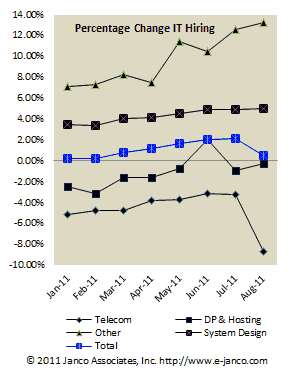 IT Job Market -- Employment Not a Pretty Picture
For the last few months the number of individuals employed in IT has increased (seasonally adjusted) 13,600 in the last 12 months. Janco feels that these small gains could be lost quickly if more companies stop hiring.


Health Care vs. Financial Services Job Growth
Employment is on the rise in Healthcare IT and spending will reach $40 billion by the end of this year. Much of that growth will come from spending on electronic health record (EHR) systems, mobile health applications and efforts to comply with new government standards. Boosted by increased spending on healthcare software -- which is needed for the rollout of EHR systems -- the U.S. healthcare IT market is expected to grow at a rate of about 24% per year from 2012 to 2014, the study said. Spending on healthcare software rose 20.5% in the past year, from $6.8 billion in 2010 to a projected $8.2 billion this year. Recent mergers and acquisitions in the healthcare IT market also point to growing private-sector interest in software, which will see sales grow at rate of more than 30% annually from 2012 to 2014.
Order Salary Survey Download Sample Provide Data