IT hiring slows loss of 2,300 IT jobs in October
The recovery is not here as companies continue to limit IT headcount growth
IT hiring slows October 2011. Janco reports that the IT job picture decayed in October. The CEO of Janco, Victor Janulaitis said, "2,300 jobs were lost in October - versus the gain of 31,800 jobs in September. " Janulaitis also said, "According to the BLS data there was an overall loss of IT jobs with the telecommunications job market losing 900 jobs, computer system design and related services losing 2,300 jobs, Data Processing and Hosting losing 500 jobs, and with only a small increase (1,400 job added) in Other Information services. " He added, "For the last three months there has been a net loss of 4,800 jobs. The BLS data is in line with what we have found in our interviews with both CIOs and CFOs in companies that have IT departments with at least 100 IT professionals either as employees or contractors. "
Janulaitis added, "The Labor Department reported of 80,000 plus new jobs in October -- versus 103,000 jobs added in September - and that is lower than the 130,000 needed for the US economy to stay even with adult population growth. " Janco feels the IT job market will not show meaningful growth until the 2nd quarter of 2012.
Order Salary Survey Download Sample Provide Data
Historic IT Job Market Size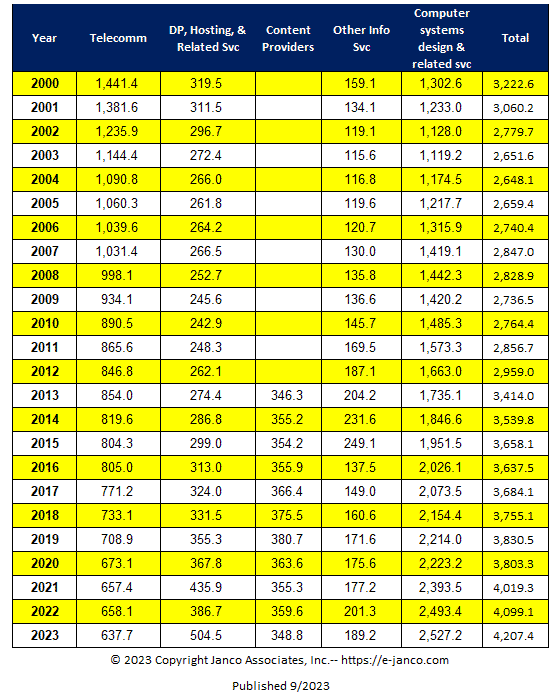 Data complied by Janco Associates with data as of September 2023
IT Job Market Employment Gains
There has been a slight increase in the overall employment of IT professionals. For the last few months the number of individuals employed in IT has increased (seasonally adjusted) 54,200 in the last 12 months while still showing a loss of 6,900 jobs in the last 3 months.


Health Care vs. Financial Services Job Growth


Employment is on the rise in Healthcare IT and spending will reach $40 billion by the end of this year. Much of that growth will come from spending on electronic health record (EHR) systems, mobile health applications and efforts to comply with new government standards. Boosted by increased spending on healthcare software -- which is needed for the rollout of EHR systems -- the U.S. healthcare IT market is expected to grow at a rate of about 24% per year from 2012 to 2014, the study said. Spending on healthcare software rose 20.5% in the past year, from $6.8 billion in 2010 to a projected $8.2 billion this year. Recent mergers and acquisitions in the healthcare IT market also point to growing private-sector interest in software, which will see sales grow at rate of more than 30% annually from 2012 to 2014.
Versions of the IT Resource Hiring Kit


Read on IT Hiring Kit Order IT Hiring Kit