IT Pros Feel Salary Crunch
IT hiring improves, but not enough to consider a recovery as overall compensation for IT professionals remained stagnant since January 2008
IT Pros Feel Salary Crunch - It's common knowledge that IT executive salaries tend to run in tandem with economic trends. During the last four years, as economic conditions remain relatively flat, so too, does the salary growth potential for senior IT professionals.
"Many most likely feel lucky to have a job at all," notes Janco Associates in its 2011 "Mid-Year IT Salary Survey" report.
Order Salary Survey Download Sample Provide Data
Data collected from Janco's compensation study was divided into two categories: Large companies (gross revenues are equal to or greater than $500 million) and mid-sized companies (gross revenues are less than $500 million). The survey size and number of participants at large companies was 281 (companies) with 24,782 data points; at mid-sized companies (703) the number of data points collected was 32,142.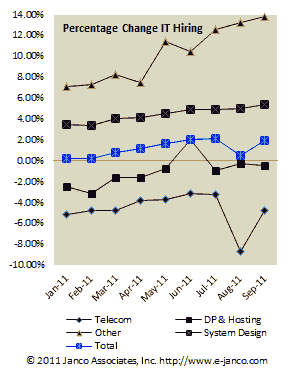 Not surprising, Janco's report holds that the salary for most senior IT positions remained flat between June 2010 and June 2011. CIOs for large companies saw a 2-percent increase in total compensation, compared with the same period a year ago. Five of the top CIO direct reports experienced salary reductions.
CIOs at medium-sized companies also received a modest compensation reduction, yet many of their direct reports received a modest increase. Receiving the largest raises were VPs of technical services and VP chief security officer, according to the study.
The survey offers a subset of data on IT employment in health care, and finance and insurance sectors. The finance and insurance sector saw a 0.43-percent drop in hiring year over year, but employment in health care IT and spending is on the upswing, predicted to reach $40 billion by the end of this year, notes the report. As expected, much of that growth will come from spending on electronic health record (EHR) systems, mobile health applications and efforts to comply with new government standards. Boosted by increased spending on health care software, which is needed for the rollout of EHR systems, the U.S. health care IT market is expected to grow at a rate of about 24 percent per year from 2012 to 2014, the study said. Spending on health care software rose 20.5 percent in the past year, from $6.8 billion in 2010 to a projected $8.2 billion this year.
By title and function, C-level leadership takes the top spot, followed by positions involved with IT planning. Janco provides the following as a sampling of several IT job titles and the corresponding average salaries from the survey:
CIO - June 2011, Total Compensation: $175,363, June 2010 Total Compensation: $171,839 Change: +2.05 percent
VP security (chief security officer) - June 2011 Total Compensation: $146,512, June 2010 Total Compensation: $149,163 Change: -1.78 percent
VP information services - June 2011 Total Compensation: $134,338, June 2010 Total Compensation: $137,513 Change: -2.31 percent
Director IT planning - June 2011 Total: $126,309 June 2010 Total Compensation: $125,705 Change: +0.48 percent
Director, systems programming - June 2011 Total Compensation: $143,152 June 2010 Total: $144,157 Change: -0.70 percent
Cost reduction is still the rule of the day; however we have seen an increase in the number of "part-timers" and contractors who are focused on particular critical projects.
Companies are continuing to reduce the benefits provided to IT professionals. Though benefits such as health care are available, IT professionals are now paying a greater portion of that cost.
CIOs compensation is mixed over the last 12 months. The mean compensation for CIOs in large enterprises is now $175,363 (an increase of 2.05 percent) and $162,250 (a decrease of 0.59 percent) in mid-sized enterprises.
Mean compensation across all IT professionals has increased by 0.39 percent (from $77,773 to $78, 078).

In mid-sized enterprises, the mean total compensation for all positions has increased by 0.57 percent from $74,016 to $74,435.
In large enterprises, the median compensation has risen slightly from $81,531 to $81,722.
Finally, Janco's data points to the following as skills with a high demand:
Project Management - especially large projects with short time frame for delivery
Security - focus on mandated compliance issues
Network administration - wireless and cloud administration
Virtualization (cloud) - new applications and management of the IT infrastructure
Business and operational analysis - focus on business change
Productivity improvement analysis - metrics and operational analysis
Web 2 - interactive applications that add value
Database management - applications that leverage enterprise assets
System administration - Windows and UNIX management
Desktop support - standardization and change management

Versions of the IT Resource Hiring Kit


Read on IT Hiring Kit Order IT Hiring Kit