Despite Lower Unemployment, IT Market Loses Jobs
IT sector lost 3,900 jobs, including 2,900 telecom positions
Despite Lower Unemployment, IT Market Loses Jobs - The struggling U.S. economy had something to cheer about Friday as the U.S. Labor Department reported a drop in the unemployment rate, but the IT sector isn't benefitting.
Unemployment in November fell from 9 percent to 8.6 percent, the Labor Department's Bureau of Labor Statistics (BLS) announced, and nonfarm payroll employment rose by 120,000. That's the lowest unemployment rate in 2 1/2 years since March 2009, according to The Washington Post.
The government noted improvements in such industries as retail trade, leisure and hospitality, professional and business services, and health care.
The IT sector wasn't so fortunate: It lost 3,900 jobs, including 2,900 telecom positions, Janco Associates announced, citing BLS statistics. The IT sector lost 5,100 jobs in October, according to Janco Associates.
"In many companies IT is viewed as a cost center with head counts and capital budgets under constant scrutiny," Janco CEO M.V. Janulaitis said in a statement. "IT jobs are typically not being cut, rather openings are left unfilled. "
Another sobering reminder of Americans' struggles: 315,000 workers gave up looking for work, The Los Angeles Times reported.
"When you see the unemployment rate fall because people drop out of the labor force, you can't be too happy about that," the Times quoted Dean Baker, co-director of the Center for Economic and Policy Research, as stating.
---

(note - Charts have been updated with the latest data. If you want to see the original charts please contact support at e-janco.com. Text is the original text. Specify which charts and dates you desire and they are available for free to paid subscribers of the CIO - IT Manager Newsletter)

---
IT Job Market Change - August 2023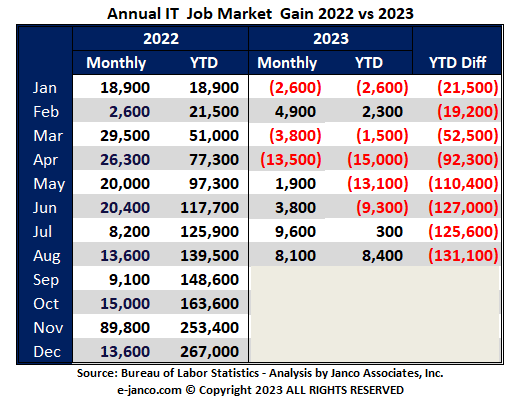 IT Job market grew by 8,400 YTD in 2023 with economic slowing and major layoffs. Analysis shows that IT Job Market growth has paused and that AI hiring trend has not taken hold as of yet.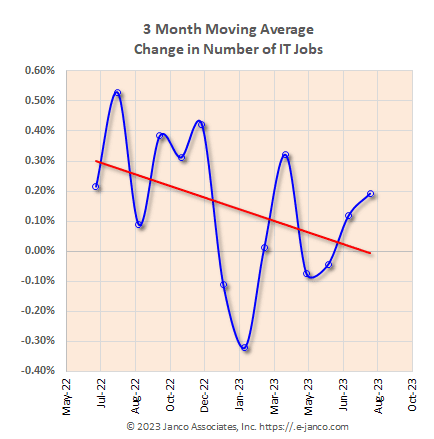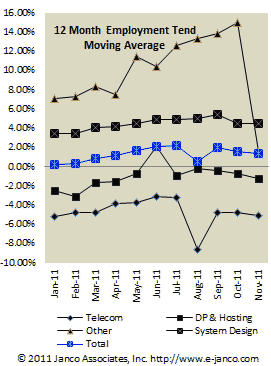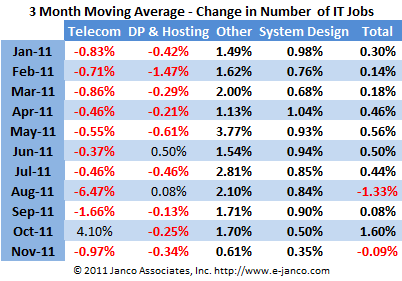 Overall, GDP and employment are growing more slowly than the adult population, and the private sector is much smaller than before the Great Recession - even with big boosts in federal subsidies for private health care and federal mandates for large health care spending by the states.
Employment grew in the second and third quarters despite very slow GDP growth because labor productivity fell the first half of 2011. Consequently, real wages, per capita income and living standards are dropping - all exacerbated by hungry state and local tax collectors who refuse to tighten belts as quickly as households and businesses.
A downsizing private sector, falling productivity per capita GDP, and a shrinking share of the adult population employed or even seeking employment are ominous signs of economic decline.
IT Job Market Employment Trends
There has been a slight increase in the overall employment of IT professionals. For the last few months the number of individuals employed in IT has increased (seasonally adjusted) 37,300 in the last 12 months a gain of 34,100 jobs in the last 3 months.


Health Care vs. Financial Services Job Growth

Employment is on the rise in Healthcare IT and spending will reach $40 billion by the end of this year. Much of that growth will come from spending on electronic health record (EHR) systems, mobile health applications and efforts to comply with new government standards. Boosted by increased spending on healthcare software -- which is needed for the rollout of EHR systems -- the U.S. healthcare IT market is expected to grow at a rate of about 24% per year from 2012 to 2014, the study said. Spending on healthcare software rose 20.5% in the past year, from $6.8 billion in 2010 to a projected $8.2 billion this year. Recent mergers and acquisitions in the healthcare IT market also point to growing private-sector interest in software, which will see sales grow at rate of more than 30% annually from 2012 to 2014.
Order Salary Survey Download Sample Provide Data
Versions of the IT Resource Hiring Kit


Read on IT Hiring Kit Order IT Hiring Kit