IT Professionals' salaries and hiring flat according to IT Salary Survey
Salaries in large enterprises remain flat - some increase in salaries for staff levels in mid-sized firms
IT Professionals' salaries and hiring flat according to IT Salary Survey - The Salary Survey, just released, is mixed news for IT Professionals. The survey shows that hiring and salaries are up in some sectors of the IT job market, salaries have stopped falling and for selected positions there has been an increase in compensation.
---

NOTE: the table below is updated automatically with the latest IT salaries when a new salary survey is published. That happens every January and June. The historical data is available.
---
Latest Median IT Salaries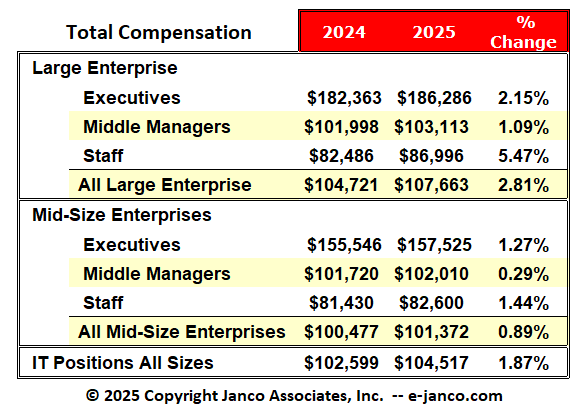 For the latest data go to the current IT Salary Survey
---
The CEO of Janco, Victor Janulaitis stated, "Our main conclusion from analysis of the data and interviews of CIOs is that for Information Technology the recession has bottomed out for and that hiring of IT professionals will increase. " Mr. Janulaitis also said, "However there still are a number of companies who are continue to be cautious and are concerned that the recovery will not be strong enough to support increased IT spending. " He added, "Cost control is still the rule of the day; however we have seen an increase in the number of part-timers and contractors who are focused on particular critical projects. This is strong indicator that IT hiring and salaries will go up. "
Read on Salary Survey Order Salary Survey Download Summary
Summary Janco 12 month comparisons show that mean compensation (which includes bonuses) for all IT executive positions in large enterprises surveyed is $140,879 (an increase from $140,267 in 2011) and $124,363 (a slight increase from $123,301 in 2011) in mid-sized enterprises. Overall compensation for all IT Professionals has increased from $77,604 to $78,229; the study also shows that there was a 5% increase in the number of employees receiving personal performance bonuses while there was 4% increase in those receiving enterprise based performance bonuses. Mr. Janulaitis said, "Bonuses are leading indicator that companies are looking for enterprise revenue improvements and want to motivate employees to focus on improving the company's bottom line over and above everything else. "
Positions in Demand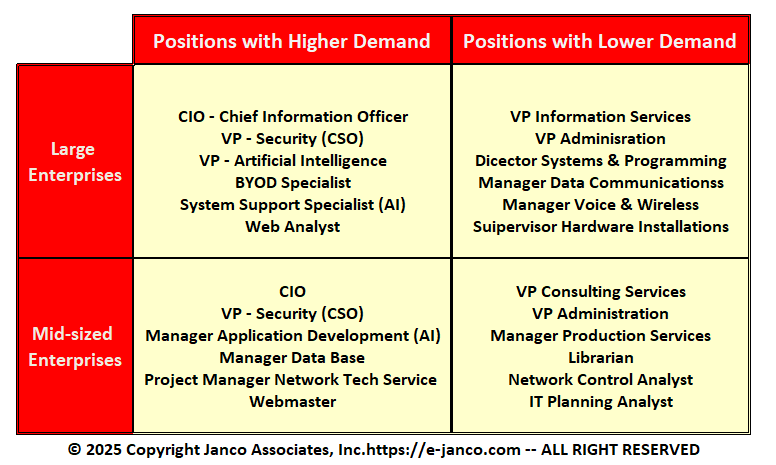 ---
(Data below was added after this was initially published)
Lastest IT Job Market Size
Data below depicts the historical number of IT Job in four major BLS job classes: Telecommunication; Data Processing, Hosting and Related Services; Other Information Services; and Computer Systems Design and Related Services. It reflects the historical total of the number of IT jobs available to IT professionals.
Historic IT Job Market Size - Over 4.19 Million Employed as IT Pros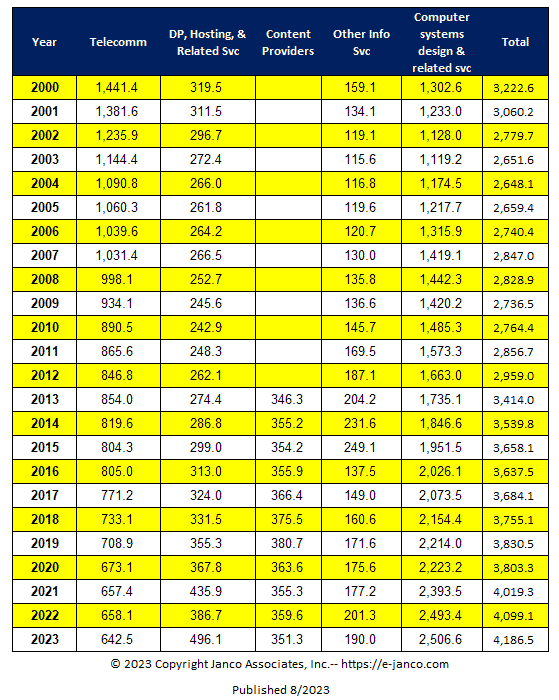 This is not the original data that was published.
It has been updated with data complied by Janco Associates with data as of September 2023.
For current information on the IT Job Market review Janco's IT Job Market and US National Employment data.
Order Salary Survey Download Sample Provide Data